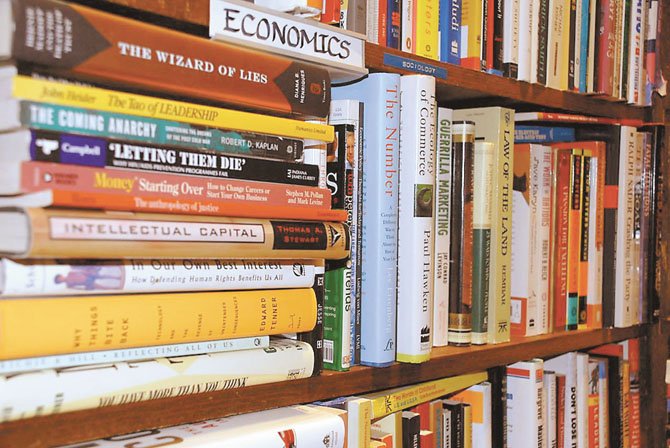 Reston — In an era when bookstores nationwide are facing rising competition from Internet booksellers and new technology, Reston Used Book Shop, on Lake Anne Plaza, celebrated its 34th anniversary in early January. Owners Susan and Bud Burwell attribute the shop's longevity to their appreciation for what a community resource the bookstore is.
The Burwells purchased the bookstore in 1999 – on April Fool's Day – from the store's original owners, Sue Schram and Sue Wensell, who established the store in 1978.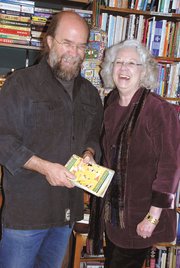 "I was an English teacher in Fairfax County and working here part-time when the Sues put the Shop up for sale in 1999. I suggested to Susie that we buy the shop and 'Live, Work, and Play' in Reston," said Bud, citing Reston's motto. "At that time, Susie wasn't sure about the proposition, but I decided to go ahead and do it. We recognize this bookstore as something special and we're not the only ones."


BUD AND SUE had actually considered establishing a bookstore in another area in Virginia – they had considered Charlottesville, Lexington and Farmwood – before committing to purchasing the Reston Used Book Shop. "What the heck, I thought," said Sue, referring to her initial hesitation in buying the Reston Used Book Shop. "This is the place to be."
Immediately upon purchase of the bookstore, Bud and Sue decided to expand the bookstore by purchasing the adjacent shop, a former dry cleaner, which had sat vacant for a long time. With this new addition, the bookstore now had space for a Children's section and a reading area that doubles as a meeting place for the shop's monthly book club and a spot for hosting local authors and musical events. The additional space also allowed the Burwells to expand the number of books available in the shop.
When the Burwells purchased the bookstore, there were just over 22,000 books in the store; now the collection has almost doubled.
"We have books here you can't find at stores like Barnes and Noble. I like to say that books may be born at Barnes and Noble, but they come here to live," said Sue.
Bud and Sue speculated that their number one customers are pilots, flight attendants and other travelers who need a good book to read in-flight or while away on travel. Perhaps, too, since the books are bought at second-hand prices, they are left behind or exchanged for other books, suggested Bud.
People bring books into the bookstore and either trade their old books for books that are new to them or for store credit. Bud said that classic titles are always in demand and almost always accepted for resale. Traded books have to be in good condition. "There is a basic formula for learning which books to accept for resale. And it's very much a learn-as-you-go process," said Bud.
Books from the "Good Reading" section -- "we thought 'Literature' was too frou-frou," said Sue –sell the best, followed by books from the Children's section.
The advent of Kindle and other electronic reading devices is having a bit of an effect on sales at the bookstore. Sue thinks that folks are exploring other ways to experience books. "But so many times people come in and say they just could not do it," she said referring to reading books on an electronic reader. "They need to hold books in their hands."
In addition to books, groups gather at the bookstore to share their interest in music and learning. The bookstore hosts Fifth Sunday Bluegrass Jams throughout the year – only four times a year, remarked Sue. Bud's interest in hammer dulcimer has led to the creation of a hammer dulcimer interest group which meets at the bookstore. Also, Saturday mornings during the spring and summer the bookstore offers the space in front of the shop to music groups sponsored by the Friends of Lake Anne.

THE BOOKSHOP hosts a monthly book club that is different from other book clubs: Rather than the members of the club reading the same book, members read a book of their choosing and share their thoughts about the book with the group. The book club meets the third Monday of every month at 7:30 p.m.
Also for the past 10 years, the bookstore has allowed Osher Lifelong Learning Institute, a George Mason University program that offers intellectual and cultural experiences to Northern Virginia retirees, to use the bookstore space for classes and seminars.
The Reston Used Book Shop is open seven days a week: 10 a.m. to 6 p.m. on Mondays, 10 a.m. to 9 p.m. Tuesdays through Saturdays, 12 p.m. to 7 p.m. on Sundays. More information about the bookstore can be found on their webpage (www.restonusedbookshop.com) or on their Facebook page.