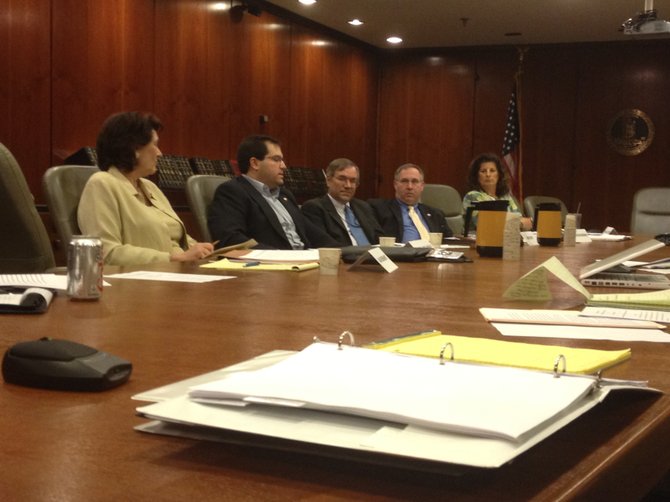 Audio clip
Mike Doucette of the Virginia Association of Commonwealth's Attorneys
Audio clip
Caitlin Ginley of the State Integrity Investigation
Richmond — Back in March, Virginia received a failing grade from the State Integrity Investigation as the result of a systematic lack of transparency. Last week, members of a subcommittee of the Virginia Freedom of Information Advisory Council gathered to see if there was any way to reconcile the concerns of law enforcement officials and advocates of public access.
The debate fell in to a familiar pattern, with members of the press supporting more access to criminal investigative documents while prosecutors and police chiefs resisted any attempt to increase transparency. The meeting adjourned with no action, which means that members of the General Assembly will likely to unwilling to support legislation that the advisory council won't endorse.
"The General Assembly has been very reluctant to ever see the access community's side of it," said Ginger Stanley, executive director of the Virginia Press Association. "We deal with this every year, and that's why we hoped that the FOIA Council could help us through this process."
Two years ago, state Sen. John Edwards (D-21) introduced a bill that would have opened documents in closed cases, an effort advocates of public access praised as a good first step toward raising the commonwealth's failing grade for transparency. But police and prosecutors resisted that bill, which was referred to the council. Members of a subcommittee formed to consider opening investigative records, but the panel has yet to make any progress. Last week, that panel met again and heard more resistance from the law-enforcement community.
"Investigations never close," said Mike Doucette, president-elect of the Virginia Association of Commonwealth's Attorneys. "We always have an obligation to go forward, and if we learn of information that we may have prosecuted the wrong person, at that point in time we have to reopen and continue that investigation."
CLOSED CASES are often the subject of intense interest, and advocates for public access say the public deserves to have access to investigative documents. The Edwards bill was sparked by an effort to gain access to investigative documents involved in the Virginia Tech massacre of 2007. Police resisted releasing those documents until a lawsuit forced them into the sunlight. Advocates for open government say that's unacceptable, especially if a lawsuit is never filed and the actions of the police remain shielded from public view.
"That raises a red flag, and it really denies citizens the right to see what went on in an investigation, if there was any sort of misconduct that occurred in an investigation, there's no way for people to know that even after a case is closed," said Caitlin Ginley of the State Integrity Investigation. "When you have an environment like that, it raises the potential for there to be illegal behavior, corrupt behavior, unethical behavior."
Police officials say the documents should remain unavailable to the public in an effort to protect witnesses and victims.
"We don't want to have a chilling effect on the public cooperating with law enforcement investigations for fear that they will have information from their cooperation with the law-enforcement agency released, which would be contrary to their interest or wishes," said Dana Schrad, executive director of the Virginia Association of Chiefs of Police.