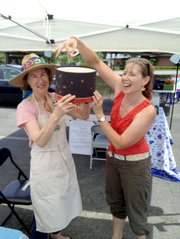 We all had a pretty rough first week of July with the huge storm on Friday night June 30, leaving tree parts strewn over most roadways throughout Great Falls, downing our power lines. We had a limited Farmers Market on Saturday, June 30 as only some produce, bread, oil olive, and pickle vendors were able to make it to the market. Most of our farmers had a struggle to contend with: scurrying to catch goats on the loose because of broken fences; milking a large goat herd by hand, due to the power outage; some free-range chickens toppling over with heat stroke (have no fear, they were disposed of out of the food chain). Our local produce growers survived the storm with little damage.
To celebrate everyone's safe return to the market last week, in spite of the very high temperatures predicted for the day, each vendor at the Great Falls Community Farmers Market contributed a gift toward an all-vendor market basket: Salad greens, tomatoes, cucumbers, peppers, onions, potatoes, sweet corn, squash, goat cheese, Italian sausage, Italian cow cheese, cocoa powder, local honey, strawberry jam, spiced cookies, three pints of different kinds of pickles and one pint of pickled beets – and a huge basket of brownies and cookies. Filling a huge cooler box, with a huge tray of cookies and brownies in a separate package on top, the opportunity to participate in the raffle seemed very worthwhile.
Each shopper was given one raffle ticket as a thank you gift, free of charge, at each vendor they shopped at. The more vendors they visited, the more raffle tickets they could submit and the higher their chances of winning the market basket.
Hope Reynolds, owner of Kreative Kids, who provides arts and crafts activities at the farmers market, pulled the winning raffle ticket, with Janet al Hussani, Virginia Tech Master Chef Volunteer, holding basket of raffle tickets up high to ensure an objective selection.
We are delighted to announce that Alyx Hazard of Great Falls won the basket. She was thrilled to be the winner – she said she never won anything before -- and has been enjoying the basket all weekend with her family. Buying local and preserving a direct relationship with the producers of our food ensures that we are all winners in bringing the healthiest and most nourishing food to our family table.
We extend our sincere thanks to everyone who braved the heat this past Saturday to shop at the Great Falls Community Farmers Market.
Coming this week: $5 coupons to the first 20 people who travel to the market by bicycle. You must have a supply of water, a hat, sunglasses, sunscreen, and a way to carry your purchases back to your home safely (i.e. refrigerated foods require some ice, etc.) to be eligible for a coupon.