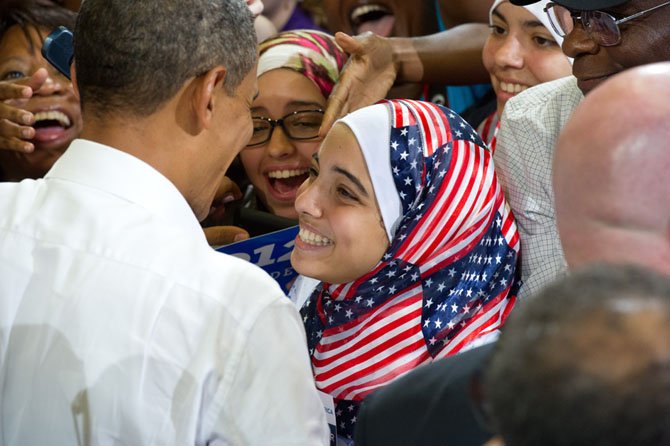 Centreville — Before President Barack Obama addressed the huge crowd inside Centreville High, Saturday afternoon, Jerry Foltz of Wellspring United Church of Christ gave the invocation. Praying to God, he said, "May this community, in all its diversity of national origin and ethnicity, with Your blessing, become an example of how people of good will can work and learn and live and play together. May all our levels of government listen to the hearts of people and provide courageous and bold leadership for the tasks that lie ahead," Foltz said. "We welcome our President, Barack Obama, into our Centreville-Clifton community. May he find friendship and hospitality here ... [and] may he bring a unity of spirit to all."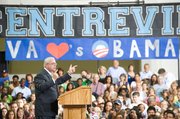 Then Rep. Gerry Connolly (D-11) took the podium. "I have the dubious distinction of being part of the most unpopular Congress ever," he said. "They're dedicated to seeing this president fail. Barack Obama inherited the worst economy since the Great Depression; the banking, auto and real-estate industries were on the ropes."
But now, said Connolly, "Corporate profits are at record highs and General Motors is number one again and is creating jobs. But the Republican response is, 'He's not cleaning up our mess fast enough.' You've got to be kidding."
Connolly said Obama's "making sure equality exists for everyone in America. This man cares about the average, middle-class family and is doing something to help them. I'm going to campaign with and for him and, on Nov. 6, we're going to win."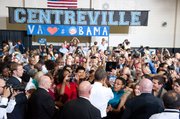 THEN, AS THE CROWD ERUPTED in thunderous cheers and applause, Obama entered the school gym and strode to the podium, smiling and shaking hands along the way. During his Senate and presidential campaigns, he said, what's inspired him is "the core of the American dream that says, if you work hard, you can make it. You can enjoy the security of middle-class life."
This security, he said, means "a home to call your own, and you're not bankrupt if you get sick. You can send your kids to school and they can go as far as possible. And you can retire with some dignity and respect. In 2008, for too many people, it seemed like that dream was slipping away, so Americans came together to fight for that American ideal."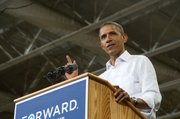 "We understood that the economy in this country works best when it works for everybody," continued Obama. "But the financial crisis resulted in people losing their homes and jobs." However, he stressed, "In the past three-and-a-half years, we've fought back to create 4.4 million new jobs, but we've got more work to do. American people are tough, and we still need to build an economy where hard work pays off."
'I Like the Kind of Man He Is'
They came, they waited and, more than three hours later, they entered Centreville High's gym. Hundreds and hundreds of people from the local community, as well as from Loudoun and Prince William counties, stood in humid, 96-degree heat Saturday afternoon to see President Barack Obama in person and hear him speak at a grassroots campaign rally.
"We thought, if the president was this close to our house, there was no excuse not to make an effort to be here," said Susan Woodruff of Little Rocky Run. "I have two nephews, 11 and 4, here from Charlotte, N.C., and we're excited for them to have a once-in-a-lifetime chance to see the president."
Concerned about "the extremism and the lack of bipartisanship in our government," she said, "I'm definitely going to vote for him."
SPORTING A T-SHIRT with several pictures of Obama on it, Centreville High freshman Miles Brooks didn't mind the long wait outside. "It's worth it to see the first black president of the United States," he said. "So far, he's done a good job running this country, trying to keep it together."
Agreeing, Virginia Run's Gay Crosby – whose son Jason teaches history at Centreville High – said Obama "doesn't get enough credit" for all the good things he's done. "I've been involved in politics all my life, working on different campaigns," she said. "But this is the most important election in my lifetime – because it's to save the middle class. It keeps going down, along with the salaries."
Thelma Bowles of Fair Oaks is an Obama campaign volunteer, but she was there last Saturday, July 14, as a resident and a supporter. "I am in – and I was in 2008, too," she said. "I like the kind of man he is – honorable and intelligent, and someone who can talk to all kinds of people. He's also a good, family man."
She said Obama's worked hard to get things accomplished for the country, but "a broken Congress has blocked him from achieving all the things he promised us. But in a second term – which he will get – I do believe he'll come from a different place and push through the things he wasn't able to before."
Fairfax's Paul Burgess wanted "to see and support the president in any way I can. I took off work early, Thursday, and stood in line for two-and-a-half hours to get tickets." He said the economy and jobs are the most important issues in the upcoming election. And, he added, "Hopefully, with the changes in Congress, this time around he can get something done, other than executive orders."
But if Republican candidate Mitt Romney becomes president, said Burgess, "My greatest fear is that our country will just go to hell in a hand basket. I fear it'll spread the two extremes even more; and more people will drop out from the middle class into the lower class and we'll be headed for another calamity."
Also looking forward to hearing Obama speak was Ed Neugass, 68, of Herndon. "This'll be the first president I've seen in person," he said. "I think he knows who we are – we have each other's back – which is to say we're connected." And like Bowles, he said the big issue is "getting past Republican blocking on the economy and jobs."
Regarding Romney, Neugass said, "He has a great problem with the truth, so I'm fearful people will rely on what he says and we'll suffer as a result. People will lose their jobs and houses and will be pitted against each other. I'm also concerned that the regulators of our banks will not regulate, and the greedy people within them will figure out a way to bring down our banking system again."
Troy Carpenter of Centreville's Centre Ridge community wanted his children, 16 and 12, to see their president and learn what it's like to be involved in the political process. Saying he shares the same views for this country as Obama does, Carpenter said, "This will be a critical election. The president's trying hard to help the ones who've not been able to get help before. The Democrats tend to have more of those values that I strongly support."
He, too, said jobs and the economy are the crucial issues in this election. "It's not just about Obama getting elected," said Carpenter. "It's about people of like mind also getting into office and being able to move his agenda forward."
ALSO WAITING IN LINE was Shannon Mancini of Clifton's Union Mill community. "I think the president's done a great job, these past four years, with the economy and health care, and I want to see him continue for four more," she said. "All around, I think he's brought unity to this country."
If Romney's elected, said Mancini, "I fear that we'll go deeper into deficit and women won't have the rights they deserve. I think this country will just break apart. I don't think Romney cares about people's needs."
Volunteers frequently passed out cold water to the people standing in line in Saturday's summer heat. And now and then, a campaign worker shouted, "Fire up!" through a bullhorn, while Obama supporters responded, "Ready to go!"
The only discordant note for them came from the vocal Romney backers standing across from the school along Union Mill Road. But even their words and presence couldn't dampen this crowd's enthusiasm. When Romney supporters yelled, "Repeal Obamacare," those in line to see the president shouted back, "Four more years!"
He said the problem is the stalemate in Washington and two, fundamentally different ideas of how to move the country forward. "My opponent believes, if we cut taxes for those at the top – even if it hurts things like research and education – that somehow, it's going to be good for everybody," said Obama. "And that, if you eliminate regulations on credit-card companies, polluters, insurance companies and banks, it'll fuel the engine of growth and somehow trickle down. But we tried it before and it didn't work."
Instead, he said, "I believe in middle-out and bottom-up economies. I believe, when working people are doing well, we all do well. And that's why I'm running again – to fight for the middle class."
He said people like him, who can afford it and make $250,000/year, should pay their fair share of taxes. Under his plan, said Obama, "98 percent of Americans shouldn't see [their] taxes go up one dime. And 97 percent of small businesses earn less than $250,000/year, so the vast majority of people would get some relief."
Obama wants the auto industry's success to happen in manufacturing, too, and he doesn't want companies that ship jobs overseas to receive tax breaks. Noting U.S. military successes overseas, Obama said, "After a decade of war, I think we should take the money we spent on [it] and use half to pay down the [national] debt and the other half to rebuild America – invest in our infrastructure to keep us at the cutting edge."
He wants to reduce the cost of college so young adults may get the jobs they need. He'd also like to strengthen the housing market so people can save money by refinancing their homes. "My opponent would let the housing market bottom out and let foreclosures play out," Obama said.


LOUD CHEERS AND APPLAUSE punctuated his speech several times – especially when he said he believes women should make their own health-care choices. He also said he's for comprehensive immigration reform and that immigrants are "a strength, not a weakness."
Then, listing several benefits of the Affordable Health Care Act, Obama said he pressed for it because "it's the right thing to do. If you've got health insurance, the insurance companies won't be able to jerk you around. And if you don't have it, we'll help you get it, without passing on the costs to somebody else."
He told the crowd it'll be a close election and people are already being "inundated" with negative ads in scary voices. "But when the American people get together and say, 'This is what matters, what's right and what's true,' we don't have to settle for what is, but what could be."
"If you believe in an economy where everybody gets their fair share and plays by the same rules – and that we rise or fall together, as one people – then I'm confident we're going to win," continued Obama. "I see myself in you [and] I have faith in you, the American people."