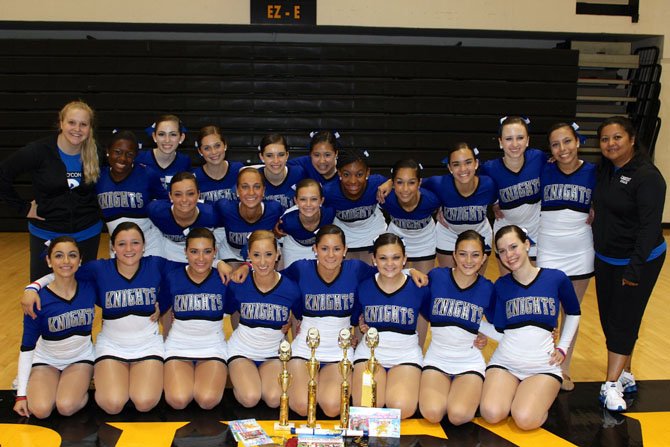 The 2012-2013 Royalette Dance Team from Bishop O'Connell High School just returned from the Universal Dance Association Camp at the University of Maryland - Baltimore County with trophies, ribbons and valuable team experiences.
This O'Connell squad received blue ribbon recognition for their home routine, finishing in second place and qualifying for the National Dance Team Championship in February in Orlando, Fla., which is televised by ESPN.

The team also received a Superior trophy as one of the top averaging teams based on individual team member evaluations. In this competition, the girls performed three routines and were awarded straight blue ribbons for the whole team for all three routines.
The Royalettes were also awarded the Team Drill Down Award, receiving the highest team average in ribbon accumulation from daily camp drills. On the final day of camp, members of the team competed in the final drill down competition. Out of 150 dancers, the Royalette Dance Team had 11 members left in the top 20, and three left in the top five. Daisa Harris '14 took fourth runner-up, Shanna Bishop '13 took second runner-up, and Carrie Stevens '13 took home the "Drill Down Queen" title.
All-Americans recognition was awarded Shanna Bishop '13, Carrie Steven '13, Carina Falcon '14, Tori Cullo '14, and Daisa Harris '14. These members were invited to perform in the New Year's Day Parade in London, England.
Officers of the team were invited to perform in the Macy's Thanksgiving Day Parade in New York City, and the entire team has also been invited to perform during the halftime show of the Capital One Bowl.
"Camp has always been an important part of our season, as it sets the tone for the year," said Coach Crissy Salvador. "The team has already raised the bar high by accomplishing so much this summer. I could not be more proud as a coach and a Royalette alum, and I look forward to see what else this year will bring for us."
For more information on the Royalette Dance Team, visit their web page at HYPERLINK "http://www.bishopoconnell.org/dance" www.bishopoconnell.org/dance.