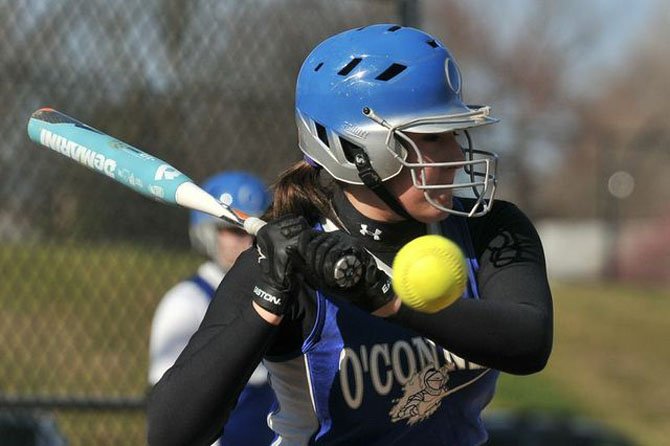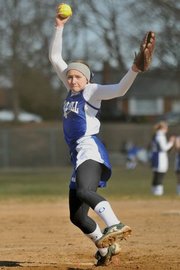 Arlington — Members of the Bishop Ireton softball team took turns stepping to the plate on a windy Thursday afternoon in Arlington.
Some Cardinal hitters wore jackets to protect against the cold March air. Some managed to put the ball in play. But one thing was true for every member of the Bishop Ireton batting order: no one produced a hit.
Bishop O'Connell pitcher Tori Finucane mowed down the Cardinals on March 14, hurling a six-inning no-hitter during an 11-0 season-opening victory for the Knights. The University of Missouri-bound senior struck out 14 and walked two. One Ireton batter reached on an error. Only one Cardinal advanced to second base and none reached third.
Finucane was so dominant, Ireton cheered from its bench when a Cardinal batter managed to make contact whether the ball went fair or foul.
While Finucane's performance was impressive, there was no postgame celebration for the right-hander. The accomplishment was nothing new for Finucane, who threw seven no-hitters during her junior season, including during the Knights' state semifinal and championship games.
Finucane finished the 2012 campaign with a 27-1 record and a 0.09 ERA. She surrendered 41 hits in 161 innings while walking 22, hitting three batters and striking out a school-record 322. She concluded the year with a 99-inning scoreless streak en route to being named Virginia Gatorade Player of the Year and helping the Knights win Washington Catholic Athletic Conference and state championships.
"A no-hitter to her? She gets them, like, all the time," said O'Connell head coach Tommy Orndorff, who enters his 28th season with the Knights. "… When you have Tori, you get a perfect game or a no-hitter every other game you go out there, almost. She's just that good. She's pretty amazing. Her numbers are pretty incredible."
"When you have Tori, you get a perfect game or a no-hitter every other game you go out there, almost. She's just that good. She's pretty amazing. Her numbers are pretty incredible."

— Bishop O'Connell softball coach Tommy Orndorff
Finucane's dominance mirrors that of the O'Connell softball program as a whole. The Knights have won nine consecutive WCAC tournament titles and 17 state championships in 19 years of competing in the Virginia Independent Schools state tournament. This year, the Knights, who are ranked No. 3 nationally by MaxPreps.com, have the pieces in place for another strong season as they return their top two players in Finucane and University of North Carolina-bound catcher Jillian Ferraro, both of whom were named 2012 first-team All-Americans by the National Fastpitch Coaches Association.
Ferraro batted .542 in 27 games last season, finishing with eight home runs and 55 RBIs.
"She loves to play," Orndorff said. "Her strength would be her love of the game and just her passion to play. She's a talent. She's a student of the game and she only wants to get better. If she has a fault, it's probably that she over-analyzes her hitting sometimes if she gets in a rut. She really thinks about it, she works on her swing, she works on her game daily [and she became] the player she is because she really likes to play and she's had a tremendous work ethic to get where she's at."
Along with strong power numbers, Ferraro went her entire junior season without striking out.
Does the streak of not striking out ever cross her mind?
"Every day," Ferraro said. "I'm OK with it, though. I'm OK to strike out this year. I'm OK with it. I've accepted it. It's going to happen. … If I strike out, I strike out. As long as I help my team and I produce, if that means striking out a couple times this season, that's fine — as long as I know what I'm doing wrong."
Junior third baseman Hayley Metcalf, senior center fielder Mary Burk, sophomore right fielder Erin Sweeney, sophomore shortstop Olivia Barksdale and junior second baseman Amanda Ehlers are also standouts for O'Connell.
Against Bishop Ireton, Finucane gave the Knights an early 2-0 lead with a two-run single in the bottom of the first. Burke hit a three-run home run in the bottom of the second and Ehlers added a two-run homer in the fourth.
Despite all O'Connell has accomplished, Ferraro and Finucane said the Knights remain motivated to succeed — due in part to a fear of failure.
"We have the mindset of we have a fear of losing or a fear of failure because we've had success in the past," Finucane said. "We've also experienced how it feels to lose and it's not a good feeling. It just makes us want to work that much harder so we don't have to feel it again."
On Friday, O'Connell improved to 2-0 with a 2-0 victory over St. Mary's Ryken. The Knights are scheduled to play their first road game of the year at 4 p.m. on Wednesday, March 20 at Good Counsel before returning home at 4 p.m. the following day against St. John's.
O'Connell is likely to carry a target on its back while looking to continue the program's dominance.
"To be honest, that kind of fuels us," Ferraro said. "… It's fun. It's competition."