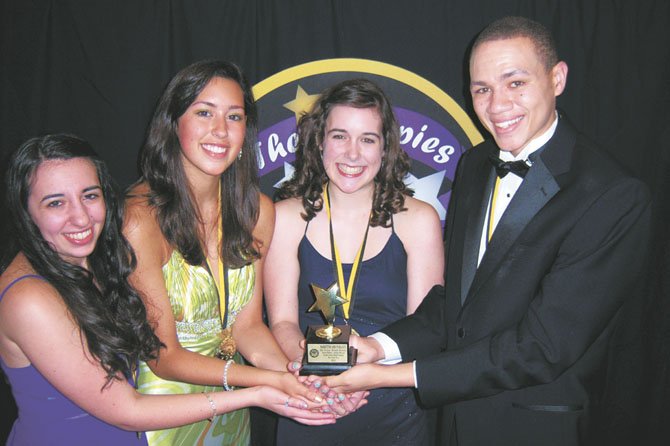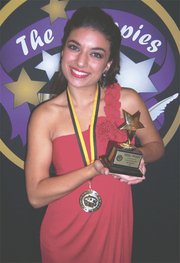 South Lakes High won two starry statuettes at Sunday night's 13th annual Cappie Awards at The Kennedy Center in Washington, D.C. It received the honors for Female Vocalist for its production of "West Side Story," plus the new category of Marketing & Publicity.
Overall, Westfield High won the most Cappies, garnering 10, including Best Musical, for "Crazy for You." The Best Play winner, McLean High, took home five awards, including Lead Actor and Lead Actress in a Play, for its production of "A View from the Bridge."
South Lakes senior Ariana Kruszewski won the Female Vocalist Cappie. "I'm shocked," she said afterward. "I wasn't expecting anything; I can't believe it. But I'm very honored and just so grateful to everyone – all my teachers and vocal coaches – who've helped me and taught me everything." Lifting her award, she added, "It's heavier than I thought it would be – it's a solid, granite block."
The Marketing & Publicity winners were seniors Jenny Rubin and Kyle Norfleet and juniors Michelle Slivinski and Caitlyn Herron. "I'm so thrilled," said Rubin. "We all worked so hard to get this, and it's amazing."
To publicize their show, said Norfleet, they put on flash mobs in the school cafeteria and participated in Spirit Week. "We also organized performances at Reston Founders Day and had Google ads," said Slivinski.
"And since we were doing 'West Side Story,' we also held a sock hop and a classic car show," said Herron. Delighted with their Cappies victory, Norfleet said, "It's wonderful; two of us are seniors, so it's a great way to end our senior year."