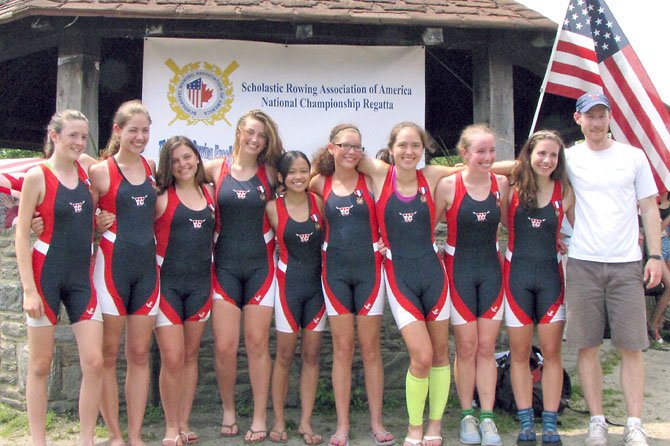 Three weeks after capturing the Silver Medal as the second-fastest boat in Virginia, the T.C. Williams girls' freshman 8 captured the bronze medal as the third-fastest boat in the United States.
The Titan girls won this honor at the Scholastic Rowing Association of America's National Championship Regatta, an annual, invitation-only two-day event that was held this past weekend on Cooper River in Camden, N.J., and
pitted hundreds of high schools against each other to determine which school had the best crew in the nation.
To earn their medal, the freshman girls had to compete in three races over a 36-hour period. The first race, held on the morning of Friday, May 25, was a qualifying heat, which saw the T.C. girls finish in second place. The second race, held on Saturday morning, was a semifinal heat, which the freshman girls won and which earned them a trip to the grand final six hours later in the early afternoon.
In the grand final, the young rowers from Alexandria clinched their bronze by crossing the finish line with a time of 5:17.841, behind perennial power New Trier High School out of Chicago and Merion Mercy High School outside of Philadelphia. The freshman girls' bronze-medal finish in the National Championship Regatta comes on the heels of their silver-medal finish in the Virginia Championship for lower boats on May 5.
Members of the T.C. Williams girls' freshman 8 include: coxswain Kathrina Policarpio and rowers Maeve Bradley, Kyra McClary, Margaret McVeigh, Claire Embrey, Maura Nakahata, Taylor Sanders, Rachael Vannatta and Zoe Gildersleeve. The freshman girls are guided by coach Pat Marquardt.
The bronze medal capped a weekend of solid performances by T.C. Williams rowers at the National Championship. Of the seven T.C. boats that were invited to compete in qualifying heats on Friday morning, four boats advanced to the semifinal round of races on Friday afternoon and Saturday morning. The other qualifying boats included the boys' varsity 4, the girls' varsity 8 and the boys' lightweight 8.
The Titan rowers conclude their season this coming weekend when they travel to St. Catherines, Ontario, for the Canadian Secondary Schools Rowing Association's 67th Annual Regatta. The T.C. Williams crew team is guided by boys' head coach Pete Stramese and girls' head coach Mercedes Kiss.
For the complete schedule and more information about T.C. Williams Crew, visit www.tcwcrew.org or www.facebook.com/alexandria.crewboosters.