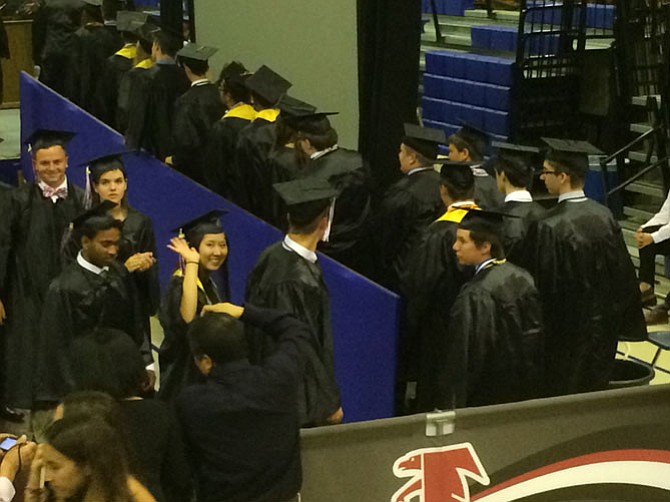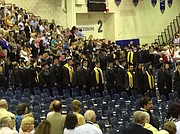 Palpable energy emanated from James Madison High School's 470 graduating seniors as they strode across Robinson Secondary's field house stage on Wednesday, June 17, excited to receive their diplomas.
Senior Virginia Moore began the ceremony with a speech to the audience on behalf of her class. In her address, Moore reminded her peers that their individual stories will continue beyond high school, and that they must now embrace their roles as freshmen not just in college, but in the real world as well.
"We've come a long way since we stepped into the halls for the first time," Moore said. "Over the course of high school, we've learned so much from our mistakes, our accomplishments, our teachers and our peers. Now it's time to break away and apply those lessons to the next chapter in our story. Winnie the Pooh once said 'You can't stay in your corner of the forest, waiting for others to come to you; you have to go to others sometime,' and Madison is our corner."
Moore also discussed the hardships she and her peers had overcome during their time at Madison. She said that, although the hardships were difficult to handle in the moment, they helped shape her class into the individuals they will be in their adult lives.
"Over the past four years, we've all met obstacles, and all set goals we didn't achieve," Moore said. "Regardless of what your personal situation was, we all suffered some hardship or disappointment over the course of our high school careers. But we got stronger, the lessons we learned from our adversities shaped who we are now and will influence who we will become. I challenge you to be brave, strong and smart as you delve deeper into the forest."
During the ceremony, Principal Mark Merrell and Robert Gambarelli, director of Student Services, presented the PTSA Citizenship Award to Noelle Anderson and Benjamin Campbell, citing their "positivity and consideration of others" and their "genuine care for others and their welfare" as justification, respectively.
Teacher Shane Rigsby, recipient of the 2011 AAA Teacher of the Year, served as the event's commencement speaker. He reflected on the different reactions people gave him upon hearing he taught at the elementary, middle and high school level over the course of his 15-year career.
"When I tell people I'm a high school teacher at Madison, they look to the sky and start to reflect," Rigsby said. "They say things like 'I worry about our country. I wonder if the next generation will make the sacrifices we have made. I fear for our future.' Then, they look at me and ask what I think about our future. And I think of all of you. I look back with a silly smile and say, 'Our future's so bright, I gotta wear shades.'"