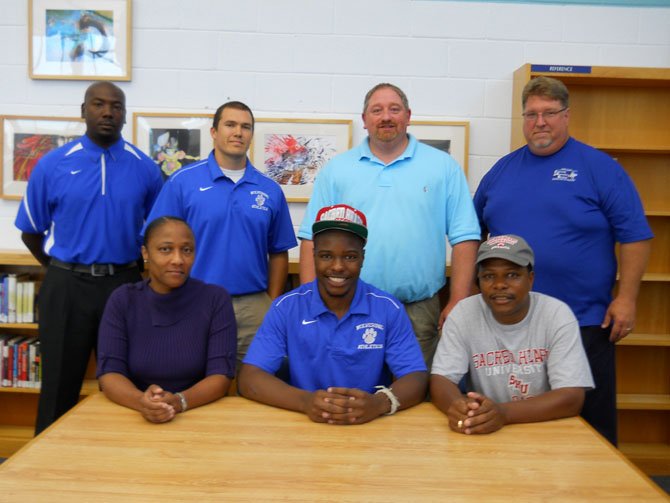 TaMaric Wilson, a 2012 graduate of West Potomac High School and a former defensive back on the school's football team, has signed a letter of intent to play at Sacred Heart University in Fairfield, Conn., in the fall. Wilson was a three-year starter at free safety for the Wolverines, leading the defensive backs in solo tackles; assisted tackles; total tackles and defended passes. He was a team captain and first-team All-Patriot District selection.
Wilson was also a standout in the classroom. He was nominated as one of 30 National High School Scholar Athletes representing the Eastern Region by the National Football Foundation.
Wilson also played basketball, made the honor roll and won the school's Most Valuable Team Athlete award for the 2011-12 school year.
West Potomac Represented At Women in Sports Ceremony
West Potomac cross country/track and field coach Jenn Dietz, senior softball player Maggie Grady and senior runner Sarah Jane Underwood were recognized at Fairfax County Public Schools' annual Women in Sports Awards ceremony on June 3.
Dietz was named High School Coach of the year and received $1,000 to use toward the cross country/track program. Grady was awarded the Donna de Varona Spirit of Sport Award and will receive a $1,200 scholarship to use at the University of Virginia. Underwood was named High School Sportswoman of the Year and will receive a $1,200 scholarship to use at Penn State University.
Mount Vernon Athletes To Compete in College
Mount Vernon High School will have several athletes participate in college athletics next season. Damaro DaCosta will play soccer for Radford University. Amardo Oakley, Ishmael Castro and Hatzael Diaz Flores will play soccer for Louisburg. David Lehner will play baseball for Alderson-Broaddus College. Nicole Parker will run track at North Carolina A&T. Nicholas Campbell (Worcester Polytechnic Institute), Ethan Lane Singletary (Mary Washington) and Caroline Spivack (Randolph Macon) will swim at the next level.
Aces' Buccilli Named CRCBL Player of the Week
Alexandria Aces outfielder Alex Buccilli was named Cal Ripken Collegiate Baseball League Player of the Week for the extended first week of the season.
Buccilli, a junior at Coastal Carolina University, went 13 for 32 (.406) with two doubles, a triple and two home runs from June 6-17.
Buccilli and the Aces were 7-5 entering action on June 20. Alexandria was tied for fourth place in the 10-team league, two games behind the first-place Rockville Express.
Kevin Francke (Trinity) is hitting .308 for the Aces. On the mound, the team has four pitchers who have thrown at least 10 innings with an ERA less than 4.00 --- Colin Milon (0.69), Ronnie Glenn (1.80), A.J. Rosenthal (2.70) and Brian Leon (3.60).
Alexandria will host Silver Spring-Takoma at 7 p.m. on Thursday, June 21.