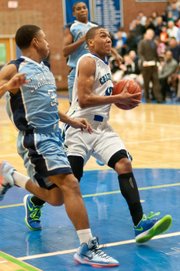 Potomac — A Clarksburg buzzer-beater cut Churchill's lead to two at halftime of the teams' 4A West boys' basketball quarterfinal matchup.
A 17-5 Churchill run to open the second half assured Clarksburg would get no closer.
No. 2-seed Churchill advanced to the region semifinals for the third consecutive season with a 67-58 victory against No. 10 Clarksburg on Feb. 28 at Churchill High School. Four Bulldogs scored in double figures, led by sophomore Jesse Locke's 17 points. Senior Dominique Williams and junior Malik Harris each scored 14 points and senior Bryant Wheatley had 11.
Clarksburg closed the first half on a 12-4 run, but Churchill held the Coyotes scoreless for a 3-minute, 37-second stretch of the third quarter and extended its lead to 48-34 with a Locke bucket with 1:27 left in the period.
"We just had to turn up our defense," Williams said. "I know we weren't blocking out well in the first half, so we had to make sure we knocked those big boys out so we could get those rebounds."
Williams finished with six steals, and fellow senior Wheatley grabbed 12 rebounds, giving him a double-double. Locke grabbed nine rebounds.
"Dom and Wheatley tonight just played like seniors," Churchill head coach Matt Miller said. "That was a big focal point at halftime is that you guys have all got to match their intensity. … [Our guys] were all over the glass, they were all over the loose balls. Even their mistakes, they were hustling."
Churchill has held 19 of 23 opponents to fewer than 60 points this season. Clarksburg scored 66 in the teams' first meeting.
"We were flying around," Wheatley said after Churchill's quarterfinal victory. "We've been having a hard time talking, but now we're coherent, every one's talking, it's fantastic."
Dennis Singleton Jr. led Clarksburg with 20 points.
"We were flying around. We've been having a hard time talking, but now we're coherent, every one's talking, it's fantastic."

— Churchill senior Bryant Wheatley
Churchill will face No. 3 Quince Orchard in the semifinals at 7 p.m. today. The Cougars defeated the Bulldogs 64-46 during the regular season on Feb. 5.
Churchill last season reached the region final for the first time in more than 30 years. Williams and Wheatley are the most experienced returners from that group, which lost to Magruder in the 4A West championship game.
What could they tell the younger Bulldogs about playing in the postseason?
"The intensity is going to be high and the crowd is going to be into the game," Williams said. "They're going to really try to put pressure on us so we just have to relax and just play our game."