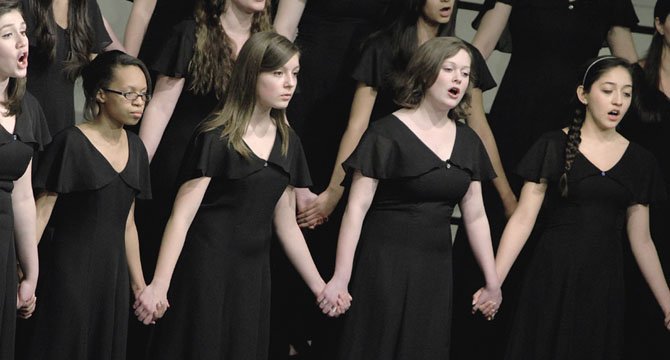 Thousands of the world's best singers will arrive in Cincinnati for the 2012 World Choir Games this July, a competition that kicks off with Olympic-style fanfare. The 11-day event includes hundreds of choirs from Africa, Asia, Europe, Australia, North America and South America, who will compete in 23 categories from July 4-14.
Two choral ensembles from Robinson Secondary School - the Select Women's Ensemble and the Robinson Singers - have been accepted by audition to perform at this prestigious choral competition. From July 4-8, the Robinson Choirs will be evaluated by an international panel of choral conductors. The students will also have the opportunity to share "friendship concerts" with other choirs from around the world and attend clinics and performances.
Photo Gallery
Celebration of Song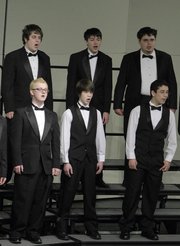 Robinson choral groups selected to compete during 2012 World Choir Games.
Click Photo for Flash
The World Choir Games begin with an Olympic-style opening ceremony complete with a parade of nations. Robinson's choirs have two of the four groups representing the Commonwealth of Virginia.
"The students have been working hard over the course of many years to reach the level of artistry required to participate in such an enriching endeavor," said Michael Horanski, the school's Director of Choral Activities.
The school has launched a fundraising effort to allow the 63 students to compete in the games. Horanski said they hope to raise $50,000.
"Of course, there is an expense involved with putting a trip like this together," Horanski said. "The students in the choirs very much would like to experience this once- in-a-lifetime event."
"This is such an exciting experience," said Mary Davis, president of the Robinson Choral Parents Association. "Our students will have the opportunity to experience an incredible musical and cultural exchange, and be evaluated by an international jury of choral directors. It's quite an honor. "
To help fund the trip, sponsors can mail a tax-deductible donation to: Robinson Choral Parents Association. In the memo line, indicate: "choir games donation." Sponsors may also donate online.
To learn more about the Choir Games, and ways to donate, go to www.robinsonsings.org/home/world-choir-games.
Davis said those who make donation will be recognized at the farewell concert at the beginning of July and throughout the year in the school's concert programs.
"We want to help our wonderful student musicians 'Go for the Gold,' and join a world-wide community of musicians," Davis said.