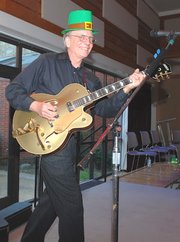 The Reston Chorale did two performances Saturday night at the Community Center, both to full capacity and very enthusiastic audiences. There was a complete blend of styles, progressing through time from the sweet and smooth work of Pre-Civil War Stephen Foster, down to the early rock and roll of Bill Haley and finally to the edginess of the contemporary group Owl City.
Artistic Director David Lang skillfully mixed in fine soloists and small groups with the large choral pieces and the result was a constantly stimulating program. From our emigrant filled nation came ballads, opera, jazz, country, gospel, popular and traditional music that perfectly reflected wonderfully mixed population. There were memorable melodies, syncopations, hard and difficult rhythms, sentimental moments of lost love, and all from a dizzying plethora of genres.
After the driving, hoe-down sounds found in the last number, the traditional piece "Cindy," Maestro Lang concluded the performances with a crowd favorite. He had the whole audience join the Chorale in a sing-a-long that respected that day's popular Saint Patrick. All sang the "When Irish Eyes Are Smiling."