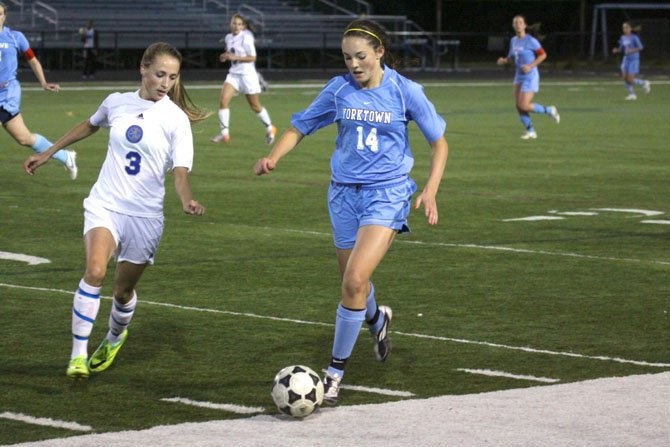 Fairfax — Yorktown midfielder Meghan Flynn dribbled along the left sideline at Fairfax High School, ran through an opponent's attempted slide tackle and headed down the field. As she neared the corner during the April 27 match, Flynn crossed the ball to teammate Isabel Arnold, who finished the play by scoring the Patriots' third goal of the evening.
"I was driving at the goal," Flynn said, "trying to get the defender to come to me so I could get it into the center and find Isabel."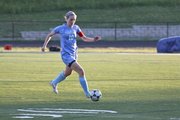 While Flynn's desire to capitalize on a scoring opportunity helped the Yorktown girls' soccer team put the finishing touch on a 3-0 victory against the Rebels, the Patriots' desire to remain undefeated pushed them to a 9-0-2 record through the season's first 11 games. After the shutout against Fairfax, Yorktown had outscored its opponents 48-3. The Patriots won their first six games against National District foes with a 36-1 goal advantage.
As of Monday night, Yorktown was ranked No. 10 in the Washington Post's top 10, with non-district victories against Annandale, Lake Braddock and Fairfax. The Patriots played to a draw against Woodson, ranked No. 9 in the Post, and Centreville.
"Every game we go into it and one of our top reasons for wanting to win is to stay undefeated," Arnold said after the victory against Fairfax. "At this point, it feels really good to be undefeated."
Against Fairfax, Alex Puletti opened scoring for Yorktown with a goal in the 11th minute. The sophomore used her body to shield a Fairfax defender from the ball until she gained desired position and fired a shot.
Sophomore midfielder Kendall Logan scored the Patriots' second goal in the 37th minute.
"I thought we did really well," Flynn said. "It was kind of a physical game, but we did our best and it paid off."
Arnold, a senior captain, played defense in the first half, something she has done in spots during the season while the Patriots have dealt with injuries. In the second half, Arnold moved to forward, where she was a first-team all-district selection last season, and scored the Patriots' final goal.
"I like playing up top, [head coach] Vicky [Brunt] knows that," Arnold said. "Honestly, I kind of just want to do whatever helps. I've been playing defense [during] travel [soccer, so] I can deal with it. It's sort of a weird transition, though, especially in the middle of a game, but, yeah, it's fine."
Yorktown hosted Oakton, ranked No. 4 in the Post, on May 1. Results were not available prior to the Connection's deadline. The Patriots will close the regular season with a district contest against Falls Church and non-district matches against West Springfield and Herndon.
"Vicky said to us before, she wants us to be one of these teams that goes into games and teams are scared to plays us," Arnold said. "Having that target on our backs, if it's there, it's even more motivation just because we want to show everyone what we can do."