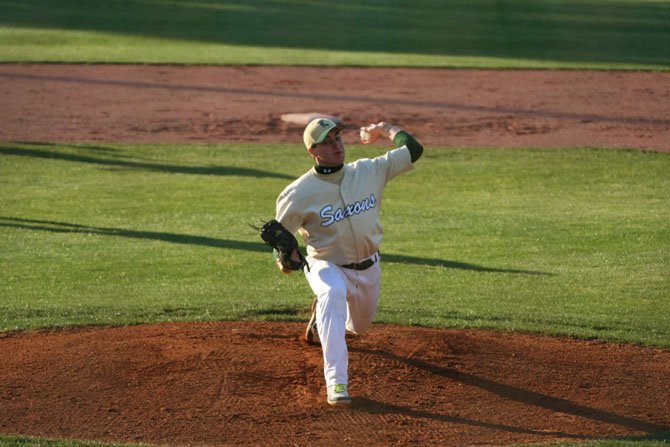 Vienna — The Edge' Summer Basketball Camp, for boys and girls ages six to 14, will take place the week of Monday, June 18 through Thursday, June 21 in the gymnasium at Fairfax Presbyterian Church, located at 9019 Little River Turnpike, Fairfax, Va. 22031. Daily camp times will be 9 a.m. to 3 p.m. Camp cost will vary based upon number of days in attendance. (Early bird special until May 15). Camp focus will be on basketball fundamentals such as ballhandling, shooting, footwork, and movement. Games and scrimmages will take place. For more information, contact Keith Smith at 703-691-8318, or at keith@bestyouthhoops.com. Website registration: www.bestyouthhoops.com/summer-camp/
Fairfax Adult Softball (FAS) is currently accepting applications for adult softball teams. Men's, Coed, Corporate Coed, Senior's (age 50-plus), and Master's (age 35-plus) leagues are available. Don't miss the opportunity to enjoy one of the nation's top adult team sports. Contact FAS before June 1 to ensure your team's summer evenings being filled with fun, camaraderie, and a spirit of competitive challenges everygame night. Applications are accessible via the FAS home page at www.playsoftballnow.com.
The Centreville High varsity baseball team will be hosting a fundraiser to benefit the Washington, D.C. chapter of Operation Homefront during its home game on Tuesday, May 8 against Concorde District rival Oakton. This will mark the second straight year in which the Wildcats will have held a fundraiser to benefit U.S. military personnel who were injured while serving overseas. Last year, the team raised over $1,500 for the Wounded Warrior Project during a home game versus Herndon High School.
The Centreville team, as it did a year ago, will wear camouflage jerseys during the game with Oakton. A donation box will be located at the front gate. Admission will be waived for the contest.
Several local businesses have become involved with the high school baseball event, which the Wildcats hope will draw a large crowd of students, parents, and community members throughout both the Centreville and Oakton localities. Several wounded soldiers are also expected to be in attendance and will be honored prior to the game.
For more information on how to get involved in the event, please contact Richard Fite at Richard.Fite@NDU.EDU or call 904-718-6828.
The McLean High boys' tennis team, following a Liberty District win over Jefferson last Thursday, April 26, held a perfect 11-0 record.
McLean had a pair of tough district matches during the week - the Thursday competition versus Jefferson and, three days earlier, an outing versus cross-town rival Langley. All three Liberty District teams - McLean, Langley, and Jefferson - are among the top teams in the Northern Region.
"The McLean Highlanders boys' tennis team is blessed with excellent depth," said the team's head coach, Aavo Tomkov.
That was certainly proven in the match versus the visiting Jefferson Colonials, in which three of McLean's top three players were unable to compete due to illness. But the Highlanders still performed well in a 7-2 team victory over Jefferson (7-3 record), the defending Northern Region champions.
In singles action, McLean won five of the six matches. At No. 1 singles, Nik Padmanabhan defeated Stephen Hu, 10-6; and at No. 2, Mike Padmanabhan was a 10-7 winner over Ben Rosenblum. McLean's other singles winners were: Kristian KC over Govind Mattay, 10-4, at No. 4; Mark Martinkov over Brad Rosenblum, 10-6, at No. 5; and Joon Yee, a 10-8 victor over Jason Huang at No. 6.
In doubles, McLean's No. 1 team of Padmanabhan and Ahmed Skaljic bested Stephen Hu and Kevin Wan by a 10-8 score. Mike Padmanabhan and Mark Martinkov won their No. 2 match, 10-4, over Govind Mattay and Matt Swanhorst.
In the April 24 match earlier in the week, McLean won a hard-fought meeting at Langley, 6-3. It marked the second time this spring in which the Highlanders have defeated the talented Saxons.
In singles, McLean's Nik Padmanabhan won his No. 1 match over Jeff Small, 10-4. At No. 2, the Saxons' Jimmy Fang was a 10-6 winner over Kyle Chisu Edwards. In the No. 3 singles match, McLean's Mike Padmanabhan earned his way past JT Von Seggern, 10-5.
The Highlanders took the Nos. 4 through six singles matches: Ahmed Skaljic getting past Joe LaFuria, 10-8, at No. 4; Bing Waid defeating Brian Niu, 10-4, at No. 5; and Kristian KC winning over Anudeep Bodd, 10-5.
McLean's Padmanabhan and Kyle Chisu Edwards won their No. 1 doubles match over Jeff Small and Jimmy Fang, 8-4. At No. 2, Langley teammates JT Von Seggern and Joe LaFuria were 8-6 winners over Ahmed Skaljic and Bing Waid. And at No. 3 doubles, the Saxon duo of Elliott Greene and Calvin Li bested Kristian KC and Joon Yee, 8-6.
Great Falls Soccer invites parents from the local area to learn more about the GFSC Travel program. What is travel soccer all about? What is the time commitment? What is the tryout process like? Is it a good fit for my child/family? Answers to these questions, along with many others, will be answered on Wednesday evening, May 2 from 6 to 7 p.m. at Forestville Elementary in Great Falls - a meeting especially designed for the parents of rising U9 players (mainly rising 3rd grade students, contact us for birth date requirements). For more information contact administrator@greatfallssoccer.com
Langley got seven strikeouts from pitcher Emily Templin in the Saxons' 6-0 Liberty District girls' softball win at Fairfax last Tuesday, April 24. Templin kept Fairfax off the scoreboard for all seven innings she was on the hill. She pitched a shutout, allowing no runs on three hits while striking out seven. Langley's bats came to life in the seventh inning, catching fire for four runs. Julia Weeks paced Langley at the plate, going 2-for-4, driving in one run and scoring a run. She doubled in the fourth inning and singled in the sixth inning.
Three days later, the Langley offense was too much for visiting South Lakes in a 13-2 Saxons' win last Friday, April 27. The game was decided quickly as Langley exerted its will early with nine runs in the first three innings. An RBI triple by Carina Sturm, a fielder's choice, an RBI single by Ashley Panetta, an error, and an RBI double by Gabi Pijaca during the second inning fueled Langley's offense early. Maggie Natal racked up three RBIs on two hits for Langley. Emily Templin got the win for Langley. She allowed two runs over four innings. The Langley pitcher struck out three, walked one and surrendered three hits. Langley brought home four runs in the third inning, and matched that run total in the fourth. In the third, Langley scored on an RBI double by Sturm, scoring Kaitryn Evans. Langley added four more runs in the fourth, thanks to an RBI single by Evans, an RBI double by Natal, an RBI single by Panetta, and an RBI single by Templin.
Registration is open for the 5th Annual Erin Peterson Fund Golf Tournament set to take place Thursday, June 14 at Westfields Golf Club, located at 13940 Balmoral Greens Ave., Clifton, VA 20124. Along with having a fun golf outing, participants will also be helping a worthy cause. Past donations and participation in the benefit event have resulted in the giving away of $85,000 in
scholarships and grants. For information and a registration packet go to: www.erinpetersonfund.org. Click on the Golf Info icon at the top or click on the Golfer on the right. For questions please e-mail erinpetersonfund@yahoo.com.
The Westfield High School Athletic Booster Club (WABC) is accepting nominations for the executive board for the 2012-2013 school year. The following positions are up for nomination: President, Vice President, Recording Secretary, Correspondence Secretary, and Treasurer. To nominate someone for a position on the board, or for additional information, please contact one of the following members of the nominating committee: Robin Angle at anglehome@att.net; Karen Duncan at Wkduncan@aol.com or 703-222-4382; or Frank Giancola at fjgpcnv@aol.com or 703-830-4921. Volunteers are always welcome and other committee opportunities are available. The elections will be held at the Monday night, June 4 meeting at 7 in the school library. The mission of the WABC is to support all athletic programs at Westfield. This is an active, rewarding board. Be involved and support the Bulldogs.
The Chantilly Class of 2015 is hosting its first annual golf Tournament. The event will be held at Pleasant Valley Golf Club on Thursday, May 3. Proceeds will benefit the class of 2015. For more details on registration, go to www.fcps.edu/ChantillyHS/indexpdfs/golftournamententrysheet.pdf.