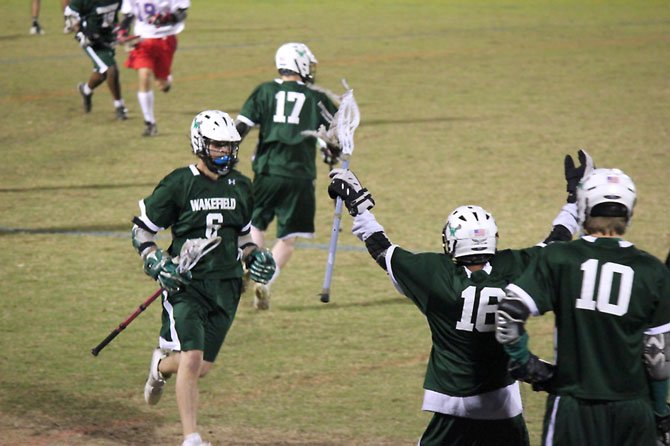 In its final opportunity to keep the program's losing streak from reaching the century mark, the Wakefield boys' lacrosse team jumped out to a 1-0 lead against Park View on April 24. However, Park View answered with a goal on the ensuing possession, leaving Wakefield head coach Brian Gilman to wonder how the Warriors would respond.
"It [appeared it] was going to be one of the games where we had to fight for every goal," Gilman said. "They haven't been in a situation where it's been a close game and they had to fight for each point. I was kind of worried about what was going to happen."
As it turned out, Gilman had nothing to worry about.
With the cloud of a 99-game losing streak hanging over its head, including eight lopsided defeats to start the 2012 season, Wakefield won for the first time since 2004 with a 12-1 triumph against Park View. After not scoring more than three goals in their first eight games, the Warriors reached double-digits against the winless Patriots.
"It was liberating," said Gilman, who completed his first season as Wakefield head coach. "… After [Park View] scored, the guys showed some great heart and they just dominated form there on."
Da'John Johnson led Wakefield with four goals against Park View. Matthew Mason, Michael Keck and Alejandro Galea each scored two goals.
Gilman said he told the Warriors they need to continue working hard and not to be satisfied with one win.
"[I told them], 'You got the first win, you got the monkey off your back, let's keep the pedal down to the floor,'" he said. "'Just because we got the first win doesn't mean it's going to be easy to get the second or the third.'"
Wakefield finished the season 1-12, ending the year with a loss to No. 1 seed Edison in the opening round of the National District tournament.