Brian Gilman uses the Wakefield boys' lacrosse program's losing past for motivation as the first-year head coach attempts to point the Warriors toward a winning future.
"I had an inkling how bad it was," Gilman said after Wakefield's scrimmage against T.C. Williams on March 5 at Minnie Howard. "I heard the talk. The season when I took over I made a personal goal to erase those records. You've got to know where you are in order to move forward."
While the Philadelphia native and former Catholic University lacrosse player had an idea of the task at hand, the depth of Wakefield's struggles was unexpected.
"Ninety-one?" Gilman said when asked if he was surprised by the Warriors' recent lack of success. "Yeah, a little bit."
Ninety-one is the number of consecutive losses with which Wakefield enters the 2012 season. The Warriors have not won a game since beating Stuart 9-4 in 2004 — a seven-year stretch of futility. After three seasons as an assistant at Wakefield, Gilman takes over as head coach with hopes of not only ending the losing streak, but changing a culture — a process Gilman said will involve disproving certain negative stereotypes associated with Wakefield, including questionable work ethic.
"That's the No. 1 thing is to get that first W — get the monkey off our back. Then I think the guys will start getting into a culture of winning. I think once they get that first win they'll see the excitement and they'll just explode from there out."

— Wakefield boys' lacrosse coach Brian Gilman
"That's the No. 1 thing is to get that first W — get the monkey off our back," Gilman said. "Then I think the guys will start getting into a culture of winning. I think once they get that first win they'll see the excitement and they'll just explode from there out. The other thing is [changing] the culture. Wakefield has a lot of negative stereotypes associated with the school and a lot of them are false. We have guys that are hard working; they want to try hard. …
"It's breaking those stereotypes and showing that we're actually a serious program now. It's not just some team that's a joke and we're hanging around, we're doing this for fun. We're here to win; we're here to do some business. We've got a couple players like [Matthew] Mason and DJ [Johnson] who are really pulling everybody else along into that mentality that hey, this isn't a joke. You've got to come to practice every day; you've got to work hard."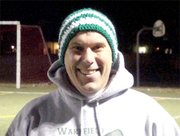 Mason, a junior attack and team captain, and Johnson, a junior midfielder, are two of Wakefield's top players. Mason stressed the importance of unity when trying to turn a program around.
"It's pretty much all about teamwork," Mason said. "You have to build the team together — just make sure everyone's on the same page."
Johnson said support from others is key, but isn't easy to attain for a struggling team.
"Even our own school, [people] sometimes are against us," Johnson said. "We want them to support the lacrosse team [but] they don't really want to because of our record."
Gilman said the Warriors have made an effort to gain community support. Players will wear Wakefield apparel while exercising in public to help spread the word about the program. Gilman also sports Wakefield gear while working out, which can lead to eye-opening moments.
"You'd be surprised," Gilman said. "I wear a Wakefield lacrosse thing when I go to the gym [and] people are like, 'Wakefield's got a lacrosse team?'"
Gilman said organizations have donated equipment to the program, which has allowed some players to work on their skills in the offseason. In the past, most Wakefield players didn't have their own equipment which Gilman attributed to "social economic factors." Using the school's equipment limited a player's lacrosse work to the three-month high school season.
"A lot of our Arlington counterparts, kids play [in the offseason]," Gilman said. "They have their own gear. Everything is pretty much given to them. It used to be nobody had their own pads or own stick or anything. The bad part about that is I've got to take that back at the end of the year. You can't get better at any sport if you're only playing for three months."
Also helping the Wakefield program is this year's addition of a junior varsity team. Wakefield has 22 JV players, three of whom have lacrosse experience. Without a JV team, many of those players would be on varsity, which would slow the pace of practice as many athletes would need beginner-level instruction. The program has grown to 40 players between the two levels. Gilman said the addition of a JV team adds legitimacy to the program and would be a major reason behind any success the Warriors experience.
Along with Mason and Johnson, sophomore goalkeeper Matthew Henderson is another key player for Wakefield.
"He's coming along," Gilman said. "[He was] getting peppered with shots over the last year, but as a freshman he was one of those guys that it never phased him how many goals somebody put in against him. He was still riding up and ready to go the next play."
Wakefield's first chance to end its losing streak will be during its March 14 season-opener at Fairfax High School. The Warriors' first home game is March 16 against South County.
"[The losing streak] is a good motivational tool," Gilman said. "Guys, focus in. It's been 91 games. It's time to step up."