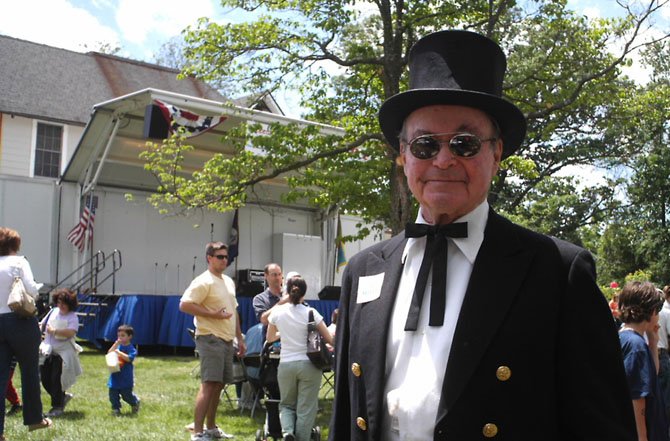 Longtime McLean Day Volunteer and Master of Ceremonies Tommy Lukas has put his microphone down and is off to other adventures.
Lukas, who with his signature top hat and tails, greeted and entertained McLean Day participants on the McLean Day stage for 19 years will not be participating in this year's festival. He has retired from the stage and he and his wife Carol will be missed.
Lukas began his duties in 1993, when his wife Carol was working for the Special Events department at McLean Community Center. A professional engineer in the automotive industry by day, he decided to volunteer his services because his wife was working the event and he wanted to be with her. One day, Special Events Director Sam Roberts asked him to consider being the master of ceremonies for the McLean Day stage. An amateur magician since his days as a Captain in the Navy, Lukas decided to take the job. And the decision to wear top hat and tails? Well, he always wore them when performing. Having worked at orphanages, retirement homes and children's birthday parties, Lukas had to adjust to the more diverse McLean Day crowds. "Over the years, it was always a lot of fun; most years things went off like clockwork and we had some of the best bands in the area come to that stage."
In addition to volunteering at McLean Day, he worked at many other Center events over the years, including the annual McLean Holiday Crafts Show, the Taste of McLean and the annual cultural festivals. In recognition of his dedication, the Center awarded him the 2004 H. Gordon Randall Volunteer Service Award.
The parents of five grown children, Scott, Jeff, David, Susan and Linda, Tommy and Carol Lukas now have nine grandchildren and are expecting their first great-grandchild later this month.