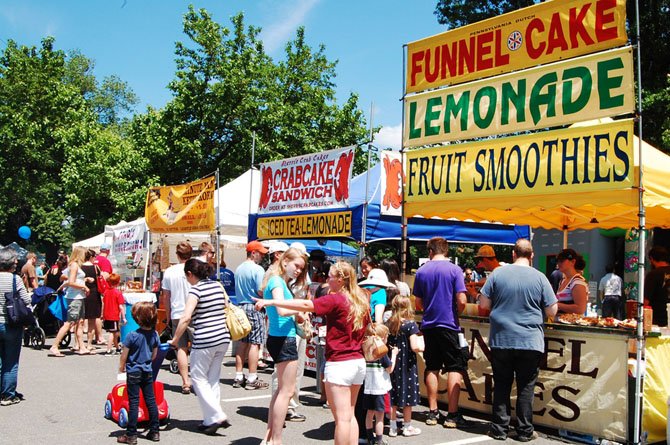 If what attracts you to an outdoor festival are the flavors of festival food, look no further---with four new food vendors to expand the already abundant food offerings available at McLean Day 2012, you are bound to be happy. The festival will be held from 11 a.m. to 5 p.m. on Saturday, May 19, at Lewinsville Park, 1659 Chain Bridge Road. Sponsored by the McLean Community Center (MCC), admission to the festival and rides on shuttle buses to and from the park are free.
Area food truck, Something Stuffed will be serving their empanadas and spring rolls, among other treats. Pepper Creek Shellfish Farm has a wide array of seafood choices rarely seen at festivals, such as Littleneck clams. Suya-to-Go will be serving a variety of Nigerian specialties: fried fish, jollof rice, chicken wings and mango twists. Amazing Volcano Drinks will make their debut at the festival, thanks to new vendor, Dee's Concessions.
Food booths are located throughout the park. Locations and menu selections can be found in the McLean Day map that will be handed out at the information booth just inside the park entrance. There also is a large tent with picnic tables for dining.
At press time, food vendors included:
*Anita's Frozen Cotton Candy
Original New Orleans Style Sno-Balls
*Big Fat Daddy's
Subs, Pork or Beef BBQ, Foot-long Corn Dogs, Turkey Legs, Burgers, Pit Ham, Sausage, Fries
*Brad's Concessions
Hamburgers, Nachos, French Fries, Cotton Candy, Sno-Cones, Ice Cream, Frozen Yogurt
*Crepe Deli
Dessert Crepes, Chicken Strips, Bratwurst and Sauerkraut, Fish and Chips, Schnitzel, Potato Pancakes
*Dominos Pizza
Pepperoni and Cheese Pizza, Cinnastix, Garden Salad, Chicken Caesar, Lava Cake, Soda, Water
*Dee's Concessions
Amazing Volcano Drinks
*Minute Man Kettle Corn
Kettle Popcorn, Water
*Nader's Bistro and Grill
Greek and American Food
*Nibbles
Novelty Ice Cream
*Orient Bowl
Skewered Chicken, Fried Rice, Lo Mein, Egg Rolls, Lemonade
*Paradise Ice Cream
Ice Cream, Sorbets, Sundaes
*Pepper Creek Shellfish Farm
Oysters, Po Boy Combos, Littlenecks, Deviled Clams, Soda, Water
*Rotary Club of McLean
Hot Dogs, Hamburgers, Cheeseburgers, Chips, Soda, Water
*Sherri's Fun Foods
Crab Cake Sandwiches, Lemonade, Iced Tea
*Something Stuffed
Free-Range, Grass-Fed! Empanadas, Spring Rolls, Seasonal Side Veggies, Fruit Dessert Dumplings
*Suya-To-Go
Nigerian Cuisine, Fried Fish, Plantains, Spinach Stew, Jollof Rice, Chicken Wings, Mango Twist
*The Tender Rib, Inc.
Brisket, Chicken Tenders, BBQ Ribs, French Fries, Soda
*Tommy T's
Funnel Cakes, Fruit Smoothies, Lemonade
The festival will be held rain or shine. Parking will not be allowed at Lewinsville Park on the day of the festival. Beginning at 9:30 a.m., free shuttle buses will run from the park to McLean Baptist Church, 1367 Chain Bridge Rd., Lutheran Church of the Redeemer, 1545 Chain Bridge Road, and MCC, 1234 Ingleside Avenue. Starting at 10 a.m., shuttle carts, similar to the ones used at airports, will run from Lewinsville Senior Center to the park. The shuttle picks up from the rear of the building on Evers Drive.
For more information, visit: http://www.mcleancenter.org/special-events/mcleanday.asp, or call 703-790-0123, TTY: 711. The Center's telephone will be answered from 7 a.m. to 3 p.m. on the day of the festival.