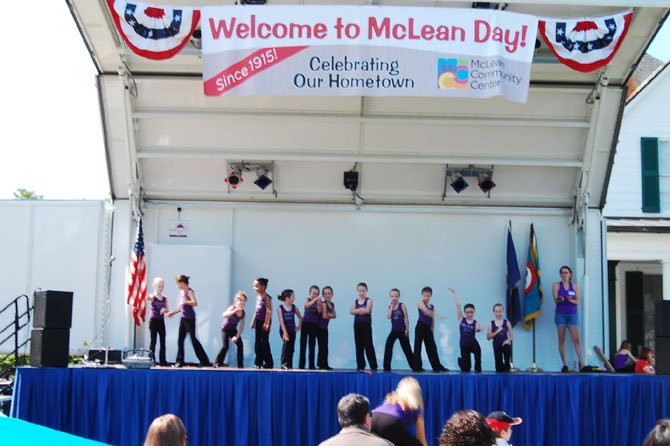 Washington Area Music Award (WAMMIE) winning musical group Scott Ramminger and the CrawStickers will play a wide mix of favorites and original songs on the House Stage of the McLean Community Center's (MCC) McLean Day 2012: Celebrating Our Hometown festival on Saturday, May 19. The festival will be held from 11 a.m. to 5 p.m. at Lewinsville Park, 1659 Chain Bridge Road. Festival admission is free and includes all onstage entertainment.
The House Stage at McLean Day also will feature performances by animal trainers Jessie & James, young dancers enrolled in Joy of Dance classes at MCC, students of Mount Kim Tae Kwon Do School and of the music school Bach to Rock.
Stage Schedule
(Subject to change)
11 a.m. Joy of Dance
Students enrolled in MCC's Joy of Dance classes will showcase what they've learned.
12:15 p.m. Jessie & James and Mutts Gone Nuts
Jessie and James have trained their adorable pooches to juggle, rope walk and more!
1:30 p.m. Mount Kim Tae Kwon Do
Students will demonstrate self-defense techniques and skills.
2:15 p.m. Jessie & James and Mutts Gone Nuts
An encore presentation.
3:30 p.m. Scott Ramminger and the CrawStickers
The band's music, an invigorating mix of New Orleans style jazz along with Chicago Blues, Stax/Motown R&B, soul, jazz and Nashville Twang, is sure to "stick in your craw."
4:30 p.m. Bach to Rock Kids Bands
Young students of the school in McLean will entertain the crowds.
Parking is not allowed at Lewinsville Park on the day of the festival. Starting at 9:30 a.m. and continuing throughout the day, shuttle buses will run from the park to Lutheran Church of the Redeemer at 1545 Chain Bridge Rd, McLean Baptist Church at 1367 Chain Bridge Rd. and MCC, 1234 Ingleside Avenue. Parking also is available at the Lewinsville Senior Center, 1609 Great Falls Street; shuttle carts will run from Evers Dr. at the back of the Senior Center building to Lewinsville Park.
The festival will be held rain or shine. For more information, call 703-790-0123/TTY: 711, or visit: http://www.mcleancenter.org/special-events/mcleanday.asp. The Center's telephone will be answered from 7 a.m. to 3 p.m. on the day of the festival.