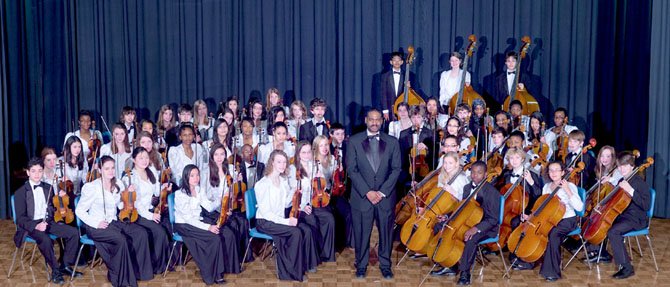 Alexandria — Students with the George Washington Middle School Orchestra wowed audiences at the Kennedy Center April 30.
The orchestra performed as a part of World Projects International, and held its own on stage with high school and college groups from as far away as Miami, Fla., San Luis Obispo and Woodland, Calif.
"The level of discipline and musicianship is amazing," said Ralph Brooker, who has a daughter in the orchestra. "They understand it's a real honor to perform here at the Kennedy Center."
The performance came on the heels of big wins at the "Music in the Park" event, held April 29 in Williamsburg, Va. The group took home trophies for superior ranked performances, and won first place in division as well as first place in the overall category.
"It shows how much the kids enjoy being in the orchestra, they really rise to the occasion," said Diane Hill, president of the George Washington Middle School Friends of the Orchestra. "Mr. Jones works them hard."
Jonathan Ray Jones, orchestra director, has been teaching students at George Washington for 14 years. Unlike other teaching positions, as head of the orchestra Jones stays with the same middle school students from sixth through eighth grades.
"I see the whole metamorphosis, watching students grow physically and musically," said Jones. "Middle school students are very stimulated kids, and classical music means keeping them focused; we can be in the middle of rehearsal on the stage of the Kennedy Center and their minds might wander to the pizza dinner."
Performing at the Kennedy Center is a first for Jones and the 57 students who take part in the orchestra. "This is my first time going to the Kennedy Center, and I'm a performer," said sixth grader Zazhary Khan, who plays the bass.
The evening's repertoire included "The Badinerie" by J.S. Bach, "Gypsy Rover" by Elliot Del Borgo, "The Sleeping Beauty" waltz by Pyotr Tchaikovsky and "Caribbean Festival" by Edmund Siennicki.
"Not many middle school kids play at the Kennedy Center," said Will Milone, a seventh grader who plays the violin.