He slowly pushes the weight. Every fiber of his being aching and begging for relief.
"Come on, donkey push it," commands the voice spotting him. "If you don't believe it you can't achieve it." The inspiration compels him through another set of reps. The words reverberate throughout the gym.
They champion hope that with hard work, a positive attitude, and support there will be a "New day, a new chance." The man who speaks them believes them and lives them himself.
His voice is warm and steady with a calm conviction as the words of wisdom spring from his smiling lips.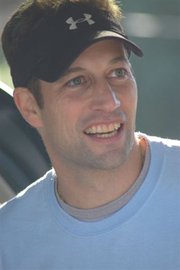 The man is Joe Cassella, co-founder of Elite Fitness Concepts. He was an insurmountable presence that was content to helping others in a quiet way. Just simply living life one person at a time.


ELITE FITNESS was intended to be a non-intimidating gym. A place for all people. A "cheers" of the gym world. It was meant to be a home for all who entered and they were all to be treated as best friends. Cassella wanted a community based gym.
In large part, he was extending the same sense of belonging that resonated in his small hometown in upstate New York. A place where everyone was tight and extremely supportive. He carried that feel with him to Virginia and ultimately Great Falls. That sense of connectedness was Joe's personality. He fit seamlessly into Great Falls because for Joe there were no lines between his business and personal lives. He was the baseball star, the year round fitness fanatic who opened the doors of his heart and his business with the same breadth.
"Joe was so family oriented," says Pat DeRocco, Joe's brother-in-law and a trainer at Elite. "He had an ease about him that made everyone feel at peace. That's why he left his mark on anyone from a family member to a friend to a stranger. He was a pure person with a heart of gold who wanted to do everything for his family. Joe's mode of success was to help others."
Cassella hoped to build his business and slowly get everyone in his family to move down to Virginia. He married his wife Gina and before long, his brothers and brother-in-law found their way to Virginia as well.
It was Joe's desire to help children that prompted the birth of the 5K Walk in Great Falls. He followed that dream until he left our world far too young, in July 2009.

Three of the family members that he loved so completely, established The Joe Cassella Foundation (www.JoeCassellafoundation.org). Vivi and Frank Cassella, Joe's brother and sister-in-law and Pat DeRocco established a means of continuing to allow Joe to touch others lives. Their mission is to "offer financial assistance to the families of children who are ill in the Washington D.C. Metro area to allow families to better focus on supporting their children in their time of need."
"Joe's life goal was to keep helping kids. We keep that going through the foundation so that Joe lives forever because Joe was too valuable of a person to pass away and just be a plaque on the wall," says DeRocco. "Through the walk his spirit, energy and good will can live on forever. He had too much to give and he knew this. While he was sick he was frustrated because there were so many people to help."
"Joe's legacy is a reflection of a multifaceted individual," says employee and friend, Diana Sievers. "He was a man dedicated to his community, devoted to family and friends, and whose character was unparalleled. But it was his sweet nature and sense of humor that drew people toward him. To me, he embodied all that is good."
DeRocco is confident that the Third Annual Joe Cassella 5K was meant to surround and support beautiful, little 1 year old Gianna Hess. "There is a local girl and a local family in an extremely difficult situation. Joe would have been the first guy to make a move to help them in any type of way," says DeRocco. "It was a no brainer when we heard her story. It was almost automatic. We knew it was a good decision. The support in this community is so huge for Gianna which obviously is so great."
"Joe's absence will forever be greater than someone else's presence," says DeRocco. He is repeating the powerful phrase he wrote and spoke for Cassella's eulogy.


TRUER WORDS could not be spoken. The gym pounds with movement. Treadmills and bikes spin, weights are pressed, members stepping towards "a new day, a new chance," delivered to them by a natural leader. A man who could also be heard uttering the words, "Don't envy anyone."
Well, Joe, my friend, our friend, it is with a lump in our throats and tears that miss your sweetness, that we might have to envy you. As your legacy attests to on the website of your "community 'Cheers,'" you were, "A man's man. A gentle, but strong soul … with an unselfish nature."