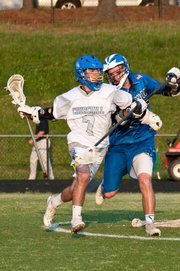 May 16 was day of euphoria for the Churchill boys' lacrosse program as it won its first region championship since 2002. May 19 was a day of disappointment for the Bulldogs, who let a third-quarter lead slip away against Westminster in the state semifinals. While Churchill experienced emotional high and lows, the Bulldogs are hoping the 2012 season acts as a foundation for a formidable future.
Three days after beating Sherwood, 12-6, at CHS to capture the 4A/3A West Region title, Churchill's season came to an end with a 14-10 loss to Westminster at Franklin High School in Reisterstown. The Bulldogs led, 9-8, with less than five minutes remaining in the third quarter, but couldn't hold on. While the loss was painful, players realized the Bulldogs could be building something special.
"It hurts, but we worked so hard," senior midfielder Cameron Moshyedi said. "I feel like we really took the program to a whole new level. Finally getting ourselves out of the 10-year slump, getting out of the region I think is going to do big things for years to come. Although we didn't accomplish our final goal [of a state championship], I really feel like what we've done here this year has really set a standard for Churchill lacrosse for the future.
"That's something we're going to look back on in 10 years when Churchill is winning state championships, saying we set the foundation for that. I'll always be proud of that for the rest of my life."
Churchill led, 5-4, at halftime, but Westminster opened the third quarter with a trio of goals to take a 7-5 lead. The Owls led, 8-7, midway through the third before Moshyedi and freshman attackman Louis Dubick scored to give the Bulldogs a 9-8 advantage. Westminster would score six of the final seven goals, however, holding Churchill scoreless for the final 10 minutes, 28 seconds.
Dubick, who finished with a team-high four goals, said the Bulldogs can learn from the experience.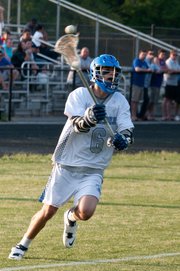 "We really get the feeling of what it's like to be on the big stage and we know what it feels like to lose," he said. "It just makes us work that much harder to not have this feeling next year."
Junior attackman Matt Leonard and sophomore midfielder Matt Moshyedi each scored two goals for Churchill and junior midfielder Morgan Rhodes had one.
Against Sherwood, Churchill built a 4-1 first-quarter advantage and led for the final 45 minutes of the contest. The Warriors pulled within one at halftime, but the Bulldogs gradually pulled away in the second half.
Matt Moshyedi led Churchill with five goals.
"Matt's that third guy that I think people overlook," Churchill head coach Jeff Fritz said. "Everyone tires to shut off Louis Dubick and Matt Leonard, and Matt Moshyedi is just as good as them, but for whatever reason he's flying under the radar. Not many teams have three poles to match up with three attackmen."
Matt Moshyedi credited his big game to Dubick's skills as an offensive catalyst. Dubick finished with four assists.
"We used Louis, who is an excellent feeder … and we just sent cutters in and we got a lot of easy goals in the crease," Matt Moshyedi said. "He's fed me on a lot this season and I've just had dunks."
Churchill, which finished 14-3 and earned the No. 1 seed in the 4A/3A West Region, will graduate several key contributors, including captains Cameron Moshyedi, Spencer Ralph (midfield), Tyler Wooster (defense) and Bryan Morritt (defense), but the Bulldogs have plenty of talent coming back. Matt Moshyedi, Leonard and Dubick will provide Churchill with an explosive offensive trio and goalkeeper Peter Hurd, who had 11 saves against Sherwood, will also return, giving the Bulldogs potential for a bright future.
"Now that we have the experience of playing these big games, these tight games," Leonard said, "hopefully we can finish them out."