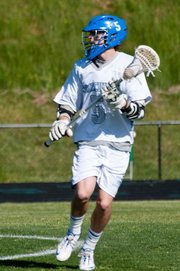 Potomac — Members of the Churchill boys' lacrosse team stood along the sideline, hopping up and down in anticipation of the clock striking zero. A member of the coaching staff raised his hands in the air, basking in the moment. And when victory was official, the Bulldogs rushed onto the field, firing their sticks skyward in celebration.
Churchill defeated Wootton, 9-6, in the 4A/3A West Region semifinals on Monday, May 14, ending the Patriots' six-year run as region champion. Playing on their home field, the top-seeded Bulldogs jumped out to a 3-0 lead and never trailed en route to a earning a spot in the region championship game, where Churchill will host No. 2 Sherwood at 6 p.m. on Wednesday, May 16.
The victory over Wootton was Churchill's first since 2006.
"I've never beaten Wootton before and that just feels so phenomenal," Churchill senior captain Cameron Moshyedi said. "It's unreal. We held the ball there for the last two minutes and after that I was out of breath, I was screaming, I was going crazy with my brothers out there on the field."
Junior attackman Matt Leonard led Churchill with five goals. Wootton twice pulled within one during the fourth quarter, but each time Leonard had an answer, giving the Bulldogs some breathing room. With Churchill leading 8-6 in the final minute, sophomore Matt Moshyedi deposited an insurance goal into a wide-open net to put the finishing touch on a Bulldog victory.
"We talked about that in the locker room: when you have the opportunity, seize the moment and finish and Matt Leonard had that tonight," head coach Jeff Fritz said. "He was the recipient of a few real good looks tonight and he was able to finish. He created for himself a few times, but when he had the opportunity tonight, he took advantage of it."
While Leonard had a big night offensively, No. 5 spoke highly of goalkeeper Peter Hurd's effort while reminiscing about the Bulldogs' postgame celebration.
"I've never beaten Wootton before and that just feels so phenomenal."

— Churchill senior Cameron Moshyedi
"Me and [freshman attackman Louis] Dubick went up and we hugged each other," Leonard said. "Everyone threw their sticks up and jumped on Hurd. He played a fantastic game. He kept us in the game and he's one of the main reasons we won this game today."
Leonard scored a pair of goals and Dubick netted one in the opening quarter, giving Churchill a 3-0 lead. Leonard's third goal gave the Bulldogs a 4-1 advantage in the second before Wootton's Chris Cornelius closed the first half with back-to-back goals, pulling the Patriots within one at 4-3. But while Wootton hung around, Churchill never relinquished the lead.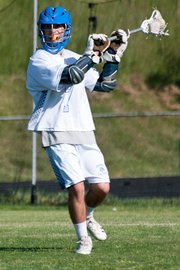 Wootton won the teams' regular-season meeting, 10-9, in overtime on April 25. Cameron Moshyedi said that loss provided the Bulldogs with plenty of motivation.
"It doesn't feel so good losing a heartbreaking game like that in overtime," he said. "Coming out today, every single one of us had that in the back of our minds. We fed off of that from the get-go. We didn't look back."
Dubick and Matt Moshyedi each scored two goals for Churchill. Cornelius led Wootton with two. Curt Brooks, Austin Schoenfeld, Myles Romm and goalkeeper Matt Hoy each had one for the Patriots.
"For whatever reason, we haven't always given [Wootton] our best game," Fritz said. "Tonight, we did. I thought we played real, real well tonight. It was the best our team has ever played here. I thought we played real cool, calm, composed. We looked like we had been here before, which is very pleasing to see."
On Wednesday, Churchill will have a chance to win its first region championship since 2002 and advance to the state tournament. Prior to beating Wootton, Churchill defeated Whitman, 14-12, in the quarterfinals on May 11.
"It's nice to be the people who knock off the six-time defending champs, especially when it's your rival on your home field," Fritz said. "It's a great feeling, but we understand that our goal has not been accomplished yet. … Hopefully we've got three games left in us, hopefully three victories left in us. Tonight was a stepping stone, but it's not by any means the end of our season. We're not satisfied with winning this game tonight. We've got a lot further to go."
Next up: Sherwood.
"We can't be like, 'Oh we beat Wootton, now we're the best,'" Leonard said. "We've got to finish this off."