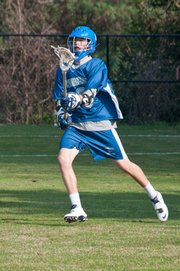 Having already secured the top playoff seed in the 4A/3A West Region and holding a clear advantage in talent, the Churchill boys' lacrosse team played the first quarter-and-a-half of Monday's regular season finale against Watkins Mill in uninspired fashion.
The Bulldogs went scoreless for the first 18 minutes, head coach Jeff Fritz pulled the starters as a wake-up call and Watkins Mill led 3-0 with six minutes remaining in the opening half.
"We definitely came out with the mentality [of], 'Oh, yeah, this team is not as good as us, we don't have to show up,'" junior attackman Matt Leonard said. "It's kind of a wake-up call when you're down 3-0 and you're like, 'Oh, we've got to step up.' When Coach Fritz took the starters out, it kind of woke us up."
While things started poorly for Churchill, the Bulldogs ended the game playing like a No. 1 seed. Coming out of a timeout, Churchill freshman Louis Dubick scored back-to-back goals, sparking a 15-0 run that sent the Bulldogs into the postseason with a 15-3 victory against the Wolverines on May 7 in Montgomery Village.
Churchill led 6-3 at halftime and cruised to victory. While the Bulldogs were able to overcome a slow start, sophomore Matt Moshyedi, who scored a career-high five goals, said Churchill might not be so fortunate in the postseason.
"Once we get to playoffs, if we come out slow like that, teams are going to jump on us and we might be in too big of a hole," Moshyedi said. "But that second half [against Watkins Mill] definitely is going to propel us through the playoffs, and we're hoping to send a message and I think the score will definitely help us with that."
"Our offense is very simple: once we get clicking, we really get going."

— Churchill freshman Louis Dubick
Leonard scored three goals for Churchill. Dubick, a freshman, finished with 10 points (3 goals, 7 assists), which is believed to tie a single-game school record.
"Our offense is very simple: once we get clicking, we really get going," Dubick said. "It just takes one or two goals to get us started and then we kind of find our rhythm."
Churchill enters the postseason with an 11-2 record, the No. 1 seed in the 4A/3A West bracket and received a first-round bye. The Bulldogs will host the winner No. 8 Paint Branch and No. 9 Whitman on Friday, May 11 in the quarterfinals. Churchill could potentially face Whitman, Wootton and Walter Johnson on its path to a region title. The Bulldogs beat Whitman by two, Walter Johnson by five and lost to Wootton in overtime.
Fritz said the Bulldogs expect to get an opponent's best effort every game.
"We've had the bull's-eye all year long," he said. "I think we've got everybody's best game all year long. People have been bringing it for us all year. We're fine with that; we expect it. It comes with being one of the top teams."
Churchill last reached the state tournament in 2002.