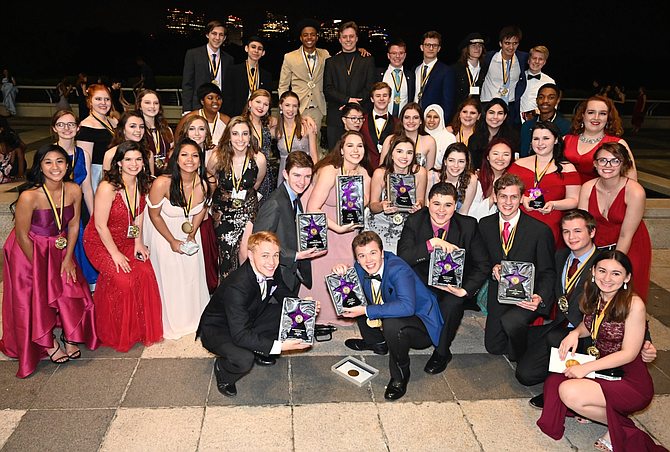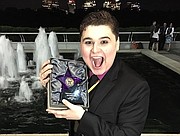 Not only did Westfield High's boisterous 1980s musical, "Rock of Ages," receive 24 Cappie nominations, but it won eight of them at the May 27 Cappies Gala at The Kennedy Center in Washington, D.C. The rock musical garnered crystal statuettes in acting, tech and critic categories, as well as capturing the big prize – Best Musical.
"I was pleasantly surprised that we got so many nominations – 24 is highly unusual – we set a school record," said Director Rachel Harrington. "I was just happy that so many students got recognized. But I was ecstatic about all the wins. I wasn't sure what the night had in store, but it was just wonderful to see all the hard work pay off."
Regarding the Best Musical award, she said, "I think this show really catered to the audience, directly talking to them and pulling them into the experience. And it was just fun and a good time. The music is familiar and something the audience members walked away singing. The cast and crew are amazingly talented, and this show gave them the ability to shine."
Besides that award, Westfield's Cappie winners were as follows:
Supporting Actor in a Musical: Harry Schlatter;
Comic Actor in a Musical: Alan Gutierrez-Urista;
Male Vocalist: John Henry Stamper;
Stage Crew: Sarah Bourgeois, Hayden Cutler & the Bourbon Room Employees;
Stage Management: Lauryn Bailey;
Sets: Braeden Anderson, Nora Lewis;
Andy Mays Rising Critic: Julia Tucker.
So how does Harry Schlatter feel about winning the Cappie for Supporting Actor in a Musical? "Freaking thrilled," he replied. "I think it's so crazy that, out of all these talented actors, I got chosen – especially when I had so much fun doing it."
He also believes many things made his performance stand out to the Cappie voters. "For one, everyone knows the music and the lyrics, making it easy to have a good time with," he explained. "Then there are a lot of funny and raunchy jokes – especially for us high-schoolers, who think this show is outrageous to put on stage. My character, Lonny, is the epitome of all the raunchy, '80s goofiness – the mullet, the studded jewelry, the mustache – and he's so into being a rocker, it's his life. He is THE 1980s rocker!"
AS FOR WESTFIELD THEATER and his director, Schlatter said, "It's awesome that we could all work so hard for the nominations and, at the end of the day, the big win for Best Musical. I know a lot of people weren't excited about this show because it doesn't take itself seriously, like 'Phantom of the Opera' did last year. Instead, it was lots of fun, giving the actors the opportunity to flex their improv chops and making for a hysterical performance. I'm really happy Mrs. Harrington picked the show because it gave us actors a great change of pace and something everybody – actors, audience, Cappies critics – could enjoy."
For John Henry Stamper, it was his second year in a row to win the Cappie for Male Vocalist, after playing the title role in last season's "Phantom of the Opera." And he called his latest victory "a blessing. The Cappies are so competitive, but I always do my absolute best and am passionate about it. It's just an honor to be nominated and be in the top five, and it's great to see all the talent in the area."
Besides that, he said, "It's always nice to be appreciated by your peers. At the Cappies Gala, I was excited to hear my name called and go up there and give a speech. I think I won because I was singing music hey hadn't heard before, since 'Rock of Ages' isn't a traditional musical."
Stamper also has deep roots in this school. "I've been doing Westfield Theater camps since I was 7, so it's fostered a lot of growth for me. I'm honored to call Westfield Theater my home, and I'm excited for what the future holds for the department and for the Cappies organization."
Alan Gutierrez-Urista was delighted, as well, to win for Comic Actor in a Musical. "I thought I had a chance," he said. "I prayed a lot, but all the other nominees worked just as hard. But in that moment [at the awards ceremony] I hoped for it but didn't expect it. Words can't describe how I felt. I was very happy with the nomination, so I didn't need to win. But when they called my name, I was surprised and very excited."
He attributes his victory to the fact that he "just owned" the part of Franz. "I took a lot of liberties with it," he said. "I'd seen the show on tour and talked to that Franz and asked him for advice, and he said to just have fun with the role and make it my own. So I wanted to make it about the audience and make sure they were entertained."
ALSO PROUD to be part of Westfield Theater, Gutierrez-Urista said, "We're a family here, with all the messiness, but it's evident that we dedicate ourselves and work really hard. And we're never at a lack for talent."
Nora Lewis said she and Braeden Anderson were overjoyed with their Cappie for Sets. "It was amazing; we were completely shocked," she said. "We'd heard how good some of the other schools' sets were, so we were completely blown away."
She believes their set appealed to the Cappie voters because it had a breakable wall that made people take notice when someone broke through it. "And the extended stage that came out into the audience made people feel more involved and invested in the show," she added. "A lot of thought also went into the pictures and posters in the bar. We wanted it to be as detailed as possible, so it felt authentic."
Lewis said working on the "Rock of Ages" set was a great experience. "The people on the set team were so helpful and had so many great ideas that it made things go smoother than I thought they would," she said. "We covered the entire stage, and the curtain never closed, so we had to work around it."
As for the Cappie for Stage Crew, Sarah Bourgeois and Hayden Cutler bubbled with enthusiasm. "At The Kennedy Center, we were all visibly shaking because we were so excited to win," said Bourgeois.
Earlier, the stage crew took a group photo to be displayed on a large screen during the Gala, in case they won. It was funny because, in it, the smallest boy lifted up Cutler, who is quite tall. So, said Bourgeois, "When we saw it on the screen, it was like, 'Wow, it actually happened – we won.'"
She accepted the award from the presenter, and Cutler thanked Westfield's fire alarm in his speech. It went off in the middle of the show on the night the Cappies critics were there, and everyone had to evacuate before the musical could resume. So, said Cutler, "I thanked the alarm for just working."
He said this was Westfield's first-ever nomination for Stage Crew. Furthermore, said Bourgeois, "This is the first year it's been a separate Cappies category, so we're the first school in the National Capital Area to win it. I think we stood out because we dressed the crew members like Bourbon Room employees, with Guns N' Roses-type bandanas."
Cutler chalked up their win to the crew members doing their jobs so well. "I've done this for three shows now and, this time, we didn't have any mistakes," he said. "Everyone was perfect."