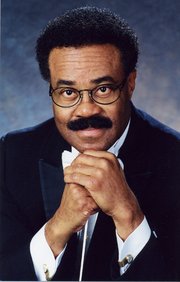 The McLean Symphony (TMS) presents its 2011–2012 Season Finale concert on Saturday, June 2, at 7:30 p.m. at Langley High School located at 6520 Georgetown Pike, McLean (route 193), ending its year-long celebration of 40 consecutive years of making music in the greater D.C. area under the baton of music director Dingwall Fleary.
Already looking toward another decade, Maestro Fleary and the Symphony have performed throughout the greater D.C. area in addition to the regular concert series in McLean. In a program recognizing the human voice as "The First Instrument," the concert will conclude with the complete 4th movement of Beethoven's Symphony No. 9, known as the "Choral." All will recognize the symphony's powerful "Ode to Joy" theme. The McLean Symphony will be joined by four professional soloists and the McLean Symphony Festival Singers, prepared by Felicia Kessel-Crawley. This same work was last performed as part of the Symphony's 20th season.
The soloists, who have all previously performed with the orchestra and Maestro Fleary, are soprano Joyce Lundy, mezzo soprano Valerie Kehembe Eichelberger, tenor Antonio Giuliano and baritone William Powers. Prior to the Beethoven, they will sing famous solos and duets by Puccini and Bizet, assisted by the chorus.
Two instrumental works will open the program. The first will be the premiere of the last of "Four Fanfares for Forty," written by composer-violist Michael Ream in honor of this special year. The fanfares were commissioned by board member Kevin Rosengren and Mrs. Rosengren. The second is the appropriately chosen orchestral blockbuster, "Prelude to 'Die Meistersingers von Nurnberg'."
For this event, all children and youth will be admitted free. Tickets prices are $25 for adults, and $20 for Seniors. They may be purchased online through www.mclean-symphony.org, or at the door.
For additional information, call the Symphony Hotline at 703-991-7197 and leave a message, or email mail@mclean-symphony.org.