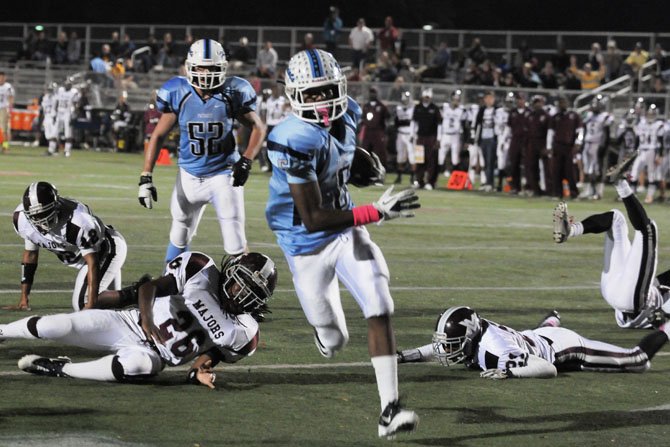 Arlington — After carrying the ball into the end zone for a first-quarter touchdown against Mount Vernon on Friday, Yorktown running back M.J. Stewart reached into the front of his pants, pulled out a T-shirt that read "Obey YHS Seniors" and held it up for the crowd to see.
"I had it planned, but I didn't really tell anybody," Stewart said after the game. "It was just a dedication to my seniors."
Stewart, a junior, paid homage to the class of 2013 with his touchdown celebration. Unfortunately for Mount Vernon, the "Stewart Show" would continue — and he had a co-star.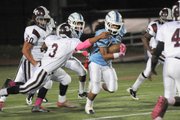 Stewart and fullback Arturo Brown combined for more than 200 yards of offense and five touchdowns as the Yorktown football team remained undefeated with a 35-0 victory on Oct. 26 at Greenbrier Stadium.
Stewart, a second-team all-region selection as a sophomore who has multiple Division I offers, carried 17 times for 110 yards and two touchdowns. He also caught two passes for 29 yards and a score, and intercepted a pass on defense. Brown, a senior transfer from Brooke Point High School in Stafford, carried 15 times for 84 yards and two touchdowns, and caught two passes for 11 yards. The duo, which often times lined up in the same Wing-T backfield, was too much for Mount Vernon.
"We're like a two-headed monster," Brown said. "We've both got the same running style. We could easily break one at any given time. It's just kind of hard for the defense to prepare for us every weekend."
Stewart and Brown grew up as close friends in the Arlington area and consider themselves cousins. They're getting the chance to play together at the high school level for the first time. Stewart is in his second season with the Patriots after playing his freshman year at Bishop O'Connell. Brown returned to Arlington after three seasons at Brooke Point. The result is an added weapon for a team that finished 12-1 last year and reached the Division 5 Northern Region championship game.
"I always wanted to come back to Yorktown because I grew up around here," Brown said. "It was always a must for me to come back."
"We're like a two-headed monster."

— Yorktown's Arturo Brown
While Stewart, listed at 5 feet 11, 182 pounds, continues to thrive at running back, Brown, listed at 5 feet 8, 167 pounds, has had to make an adjustment to the fullback position. While Brown is better suited to play Stewart's "2 back" role in the Wing-T, having Brown at fullback gives the Patriots simultaneous threats in the backfield.
"We complement each other well," Stewart said. "We know each other. I know how he runs, he knows how I run. I know how he wants me to block for him, he knows how I want him to block for me, so we're just like … the perfect couple."
Yorktown head coach Bruce Hanson said finding ways to increase Brown's production has been a focal point.
"We've been really working on trying to get our fullback some more yards," Hanson said. "Arturo is new to that position. We've had to adjust a little bit and he's had to adjust a little bit to get the right chemistry at that position."
Brown managed 84 yards on the ground and 95 yards of offense against Mount Vernon, including six runs of 10 yards or more. Both of his touchdowns were the result of short runs from inside the 5-yard line.
"I like to contribute any type of way I can to a winning team," Brown said. "Whatever they need me to do, I'll do it."
The shutout was Yorktown's second consecutive, including a 48-0 win against Falls Church on Oct. 19. The Patriots have allowed just two opponents to score more than 15 points in a contest. Yorktown has outscored National District opponents 235-34 in six games.
Against Mount Vernon, Yorktown quarterback Will Roebuck was 10-of-18 for 129 yards, one touchdown and two interceptions. Nick Yore caught four passes for 80 yards and Micah Gregory had a 29-yard run.
Defensive back Reece Lincoln intercepted a pass for the Patriots.
Yorktown will close the regular season on the road against Washington-Lee at 7:30 p.m. on Friday, Nov. 2.