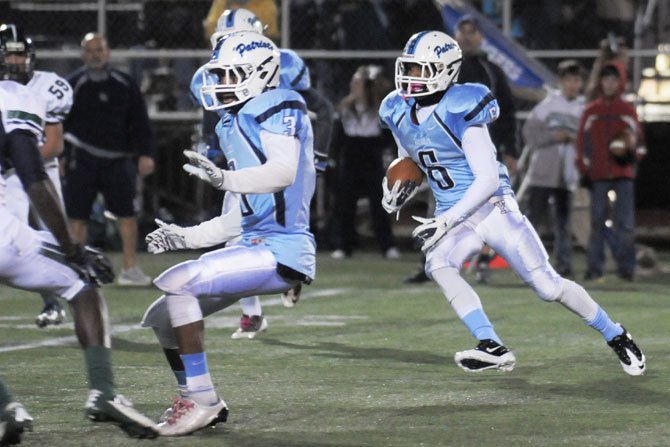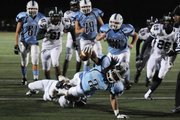 Arlington — The Yorktown football team's perfect 2011 season came to an end on its home field courtesy of South County, which beat the Patriots by 24 points in the region championship game.
In the days leading up to Friday's postseason rematch, a Yorktown assistant coach offered a little reminder.
"That was almost 100 percent of our motivation right there," Yorktown running back MJ Stewart said about losing to the Stallions last year. "Two days before [Friday's rematch], coach [Wayne] Hogwood, he printed a picture out [of] when [South County] won last year and took a picture with the regional championship banner on our field and that just hurt us all because we knew how painful it was. … We wanted this game so bad."
If it was pain that motivated Stewart, the junior carried the Patriots to a second consecutive championship game appearance with an effort fueled by a year's worth of agony.
Stewart carried 19 times for 249 yards and three touchdowns as No. 2 Yorktown defeated No. 6 South County, 48-28, on Nov. 16 during the Division 5 Northern Region semifinals at Greenbrier Stadium. Stewart scored on runs of 22, 64 and 78 yards. He also completed one pass for 22 yards, caught one pass for 15 yards and snagged an interception on defense.
"We hadn't been running the ball that well," Yorktown head coach Bruce Hanson said. "In the Jefferson game (region quarterfinals) and in the W-L game (regular season finale), we kind of had to rely on the pass. MJ had 120-yard nights, but he hadn't busted a big one in a couple weeks. W-L and Jefferson were able to contain him. I guess we called MJ's number and he just ran [into the end zone. I thought], we're going to keep doing that."
"We wanted this game so bad."

— Yorktown running back MJ Stewart
Stewart's first two carries went for touchdowns. On Yorktown's third play from scrimmage, Stewart ran left and showed tremendous speed getting around the corner en route to a 22-yard score. Yorktown increased its lead to 14-0 on a 36-yard fumble return by Colin Johnston, and two plays into the Patriots' next drive, Stewart ran 64 yards into the end zone for a three-score advantage.
Stewart put the finishing touch on the victory with a 78-yard touchdown run with 3:53 remaining in the fourth quarter. Yorktown linebacker John Yoest recovered a South County fumble on the previous play.
"He's honestly the best player I've ever played with, but he's also the nicest guy I've ever played with," Yorktown quarterback Will Roebuck said. "I'm sure everybody says that, but as good of an athlete as he is, as nice of a person as he is, you don't find people like that. He's a hell of a football player. … Makes my job a lot easier [having Stewart on the field]."
Stewart credited the guys up front.
"It was really all my linemen," he said. "They came out with all kinds of hype and intensity. They blocked well for all four quarters. They just opened holes for me that I took."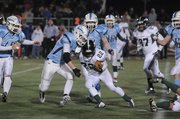 Yorktown's offensive effort was a far cry from the previous season, when the Patriots managed just one offensive touchdown during a 37-13 loss to the Stallions. On Friday, Yorktown scored six offensive touchdowns and produced 490 yards, including 396 on the ground.
Yorktown senior transfer Arturo Brown, who watched last year's South County loss from the sideline, carried 23 times for 155 yards and two touchdowns.
"It's always great to get a win, but this was a big one for us," Brown said. "… It's a big momentum [boost] to go into [the region final against] Stone Bridge."
Roebuck was 3-of-6 for 72 yards, one touchdown and an interception. Nick Yore caught a 33-yard touchdown pass.
Alex Rockelli intercepted a pass for Yorktown, one of five turnovers caused by the Patriots defense.
Yorktown will travel to face No. 1 Stone Bridge at 1:30 p.m. on Friday, Sept. 23 in the region final. Both teams are undefeated. Hanson will be coaching against the Bulldogs for the first time during his 28-year tenure as Yorktown head coach.
"We're not going to be intimidated by them," Hanson said. "We're going to play."