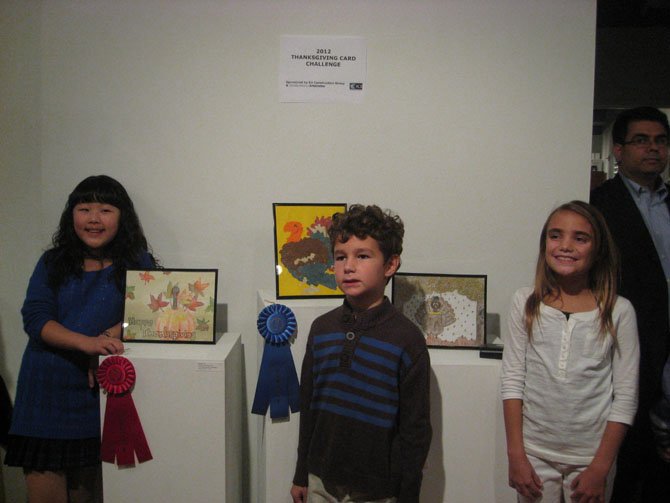 Greater Reston Arts Center (GRACE) teamed up with K3 Construction Group to sponsor a Thanksgiving Card Challenge among the schools participating in the GRACE Art program (formerly known as the Art in the Schools). This is the seventh year that K3 has sponsored this program to select artwork that will be featured on their annual Thanksgiving card, and the sixth year that schools participating in GRACE Art program have been invited to participate.\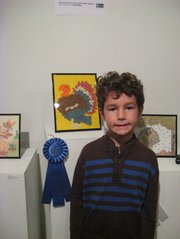 Twenty nine students from seven elementary schools, including: Academy of Christian Education, Dranesville Elementary, Forestville Elementary, Green Hedges School, Our Lady of Good Counsel Catholic School, Terraset Elementary, and Westbriar Elementary, submitted entries for this year's Challenge. The school art teachers selected a maximum of five entries from their school to be entered in the challenge. All submissions were reviewed by a committee of K3 employees, GRACE employees and GRACE Board of Directors to select the most imaginative interpretation of the Thanksgiving theme.
On Thursday, Nov. 15, an awards reception was held at GRACE to announce the winner and acknowledge all of the participants. First place was awarded to Patrick Nappi, a second grader at Westbriar Elementary. Patrick's artwork is featured on the K3 Thanksgiving card and will be mailed to over 1,300 of the area's leading businesses and associations. In addition, he received a gift card, and 100 cards for him to send to friends and families. In addition, Westbriar Elementary received $250.
Second place was awarded to Estelle Kim, a sixth grader at Dranesville Elementary. Third place was awarded to Jenna Vigneault, a sixth grader at Dranesville Elementary. All participants were recognized and received a certificate of participation and ribbon.
Kathy McCormick, principal and vice president of Business Development for K3 Construction Group, presented a check for $1,000 to Jeanne Loveland, education director of Greater Reston Arts Center.