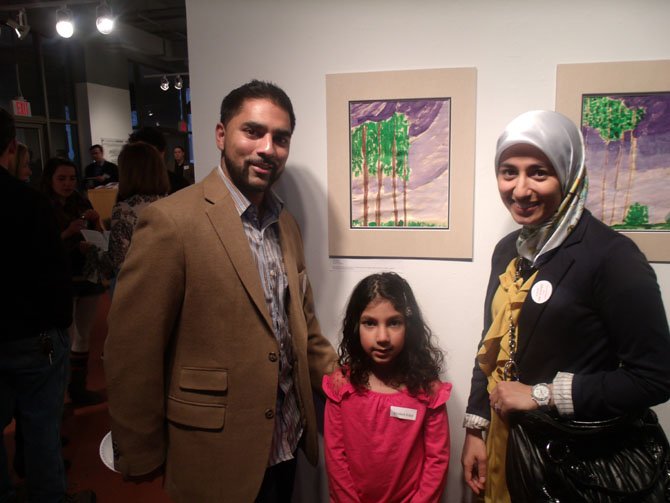 Little Jackson Baker, Morgan Milman and seven other children from North Springfield Elementary School might be first-graders, but they have reproduced the work of Wassily Kandinsky. Their school was one of the 16 elementary schools in the area that exhibited their works at the GRACE Art Center in Reston on Saturday, March 2, to mark Youth Art Month.
Answering a question on what he loves most about his work, Jackson Baker responded, "I get to make stuff, I like painting." In her response, Morgan Milman, said "It is very creative, I like to draw more than paint." Their enthusiasm was shared by seven of their schoolmates—Angel Perez, Sandra Lazo, Charlotte Moore, Robert Orellana, Elsie Hackworth, Jeffrey Pewett and Emma Acker—who came together to reproduce the work of Wassily Kandinsky.
The exhibition is part of the GRACE Art program, the signature education program of Greater Reston Arts Center. The program involves volunteer parents, who provide a one-hour classroom presentation consisting of 20 minutes of interactive art history discussion about an artist or subject using visuals and materials provided by the center. This is followed by an engaging 30-minute hands-on art project designed to reinforce what the children have learned.
In the case of Al Fatih Academy, which is participating in the exhibition for the first time, it has become part of the school's curriculum. "We use it as a resource and mix it with the curriculum," said Nadia El-Khatib, teacher and coordinator of the school's project. One of her students' artists, Asiya Moiz, kindergarten, expressed her feelings about her work, "I have fun painting trees, because I like trees."
Asiya, who with her friends reproduced the work of Claude Monet, has the support of her parents. Her mother, Sadaf Iqbal spoke about the artistic tendencies in her family: "I have a little bit of artistic abilities on my side of the family and I am hoping to encourage her." Corroborating his wife's stand, Ibrahim Moiz, Asiya's dad, said, "we are just trying to explore her artistic abilities."
The "Blue person" was the work of 4-year-old Georgia Norwood of Common Ground Child Care Center in Reston. Talking about her reproduction of the work of Keith Haring, she retorted, "This is blue person, mine was dancing. It was great, I like it." Her mother Morgan, who is also an art teacher at the school, explained, "The kids practice gestures, I choose a pose and they paint it."
Pearl Obermann, a fourth-grader at Oakton Elementary School, commented on her work: "I really like working on the project, it's an easy way to express yourself, and sometimes an artist can inspire you. It also makes you feel happy." Grace Obermann, her mother, who is a volunteer parent, said of the project: "GRACE relies on us [parents] to make presentation. It's a nice way to introduce kids to art history."
Supporting this position, Jeanne Loveland, the education director of GRACE Art, narrated stories of how participants in the program helped their parents through museums and art houses on visit to such places around the world with knowledge gained from the program. In her words, "This program is amazing, I am amazed by the stories I hear."
Participating schools include—Academy of Christian Education, Flint Hill Elementary, Forestville Elementary, Fox Mill Elementary and Gabriel Home. Inc. Others are Green Hedges School, Lake Anne Elementary, McNair Elementary School, Age Child Care (SACC), Navy Elementary, Waples Mill Elementary, Westbriar Elementary and Our Lady of Good Counsel Catholic School.
The exhibition continues through Saturday, March 9. See www.restonarts.org for more details.