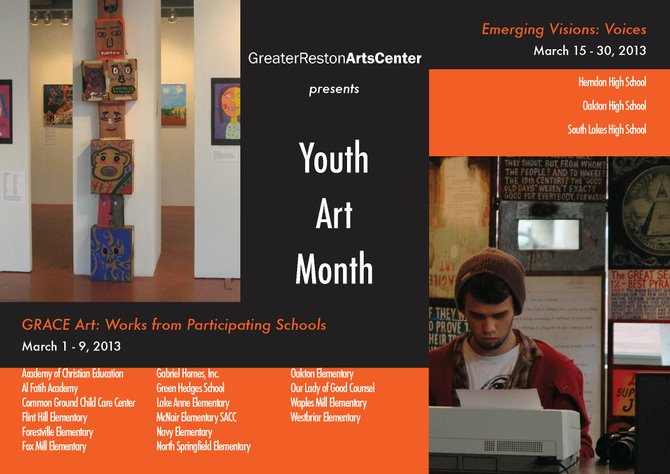 When and Where
GRACE Art: Works from Participating Schools, March 1–9, 2013. Opening Reception: Saturday, March 2, 5 at 7 p.m.
*Emerging Visions: Voices, March 15–30, 2013. Opening reception: Friday, March 15, 5–7 p.m.
Gallery Hours: Tuesdays through Saturdays, 11 a.m.-5 p.m.
Address: 12001 Market Street, Suite 103, Reston.
http://www.reston...">www.restonarts.or... or 703-471-9242.
Greater Reston Arts Center (GRACE) will celebrate Youth Art Month by presenting two exhibitions dedicated to the artistic achievements of the area's youth.
"GRACE Art: Works from Participating Schools" exhibition highlights artwork created through the Greater Reston Arts Center's signature educational program, GRACE Art. Over 40 area schools participate in this program, in which classroom volunteers deliver an interactive art history lesson with visuals followed by an engaging hands-on art project designed to reinforce the lesson. Sixteen schools have elected to participate in the exhibition including:
Academy of Christian Education, Al Fatih Academy, Common Ground Child Care Center, Flint Hill Elementary, Forestville Elementary, Fox Mill Elementary, Gabriel Homes, Inc., Green Hedges School, Lake Anne Elementary, McNair Elementary SACC program, Navy Elementary, North Springfield Elementary, Oakton Elementary, Our Lady of Good Counsel Catholic School, Waples Mill Elementary and Westbriar Elementary.
"Emerging Visions: Voices" exhibition offers Fairfax County high school students the opportunity to exhibit their work in a professional gallery setting. Students from Herndon, Oakton, and South Lakes High Schools will create works specifically for this exhibition. Many of the artists were inspired by their engagement with GRACE's fall exhibition, Campaign RE/Form, curated by DC performance artist Holly Bass. Bass selected 12 artists from multiple disciplines to transform GRACE into an interactive campaign office that highlighted many of the political and social dialogues taking place during the 2012 Presidential Election. Taking a cue from the Campaign RE/Form exhibition, 45 young artists from the three area high schools have used a variety of media to explore subjects important to them.
These two exhibitions bring recognition to Fairfax County's exceptional art teachers, their programs, and the schools and communities that support them. Throughout the years, these exhibitions have been GRACE's most popular and exciting events while furthering the art center's mission of supporting young artists and enriching community life by promoting involvement and excellence in contemporary visual arts.
Programming during the exhibitions include:
TGIF: Free Friday, March 1, 5-7 p.m.—Families with children ages 1 and up. Free event, registration required. Greater Reston Arts Center opens its doors after hours for an evening of family art exploration in the gallery. A combination of art-making and storytelling promises to excite the senses while strengthening literacy and viewing skills.
Appetite for Art: GRACE Art Lesson for Adults, Monday, March 4, 10:30 a.m.-noon. Ages 18 and up. Registration required. $10. Find out why students enjoy GRACE Art so much—come to an adult GRACE Art lesson that will begin with an overview of artist Louise Nevelson, her life and her work. Then the participants will create a scrap box project influenced by Nevelson's work.
Super Studio Monday, March 18, 3:30-5 p.m. Children ages 7 to 10. Registration required. $15. These hands-on art workshops are influenced by exhibitions at the Greater Reston Arts Center. In each session children will cultivate their creativity and curiosity and will create art using a variety of materials.
Appetite for Art: Discussion with participating Emerging Visions student artists. Thursday, March 21, 7-8:30 p.m. Ages 14 and up. $10 for adults, students free. Registration required. A selection of the exhibiting student artists will discuss their work with the group.