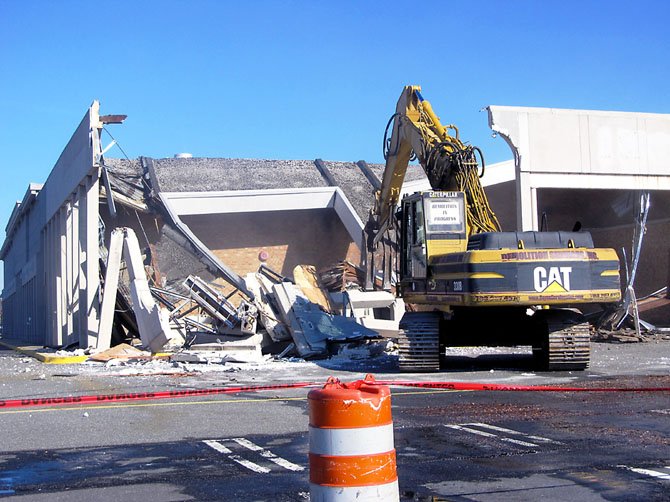 Fairfax County Supervisor Jeff McKay (D-Lee) could not have been happier as chunks of steel and concrete began falling off Springfield Mall Monday morning, Nov. 26.
"This is the biggest thing to happen in Springfield since the Mixing Bowl," McKay said, watching as the CAT excavator began demolishing what was once Garfinckel's department store.
Mall to Become the Town Center
"The final product will knock your socks off."
--Supervisor Jeff McKay
McKay, who has been instrumental in pushing the Springfield Mall project forward for several years, joined Vornado/Charles E. Smith President Mitchell Shear and other civic leaders to kick off the exterior demolition of the mall, a visible sign that the 1970s-era "fortress" mall will be transformed into Springfield Town Center in 2014.
Holding a rock-sized piece of Garfinckel's in his hand, McKay said it will be a relief to be able to tell constituents that the project, which the board of supervisors approved three years ago, is finally underway.
"It's the first question everyone always asks me. Not why, but when," McKay said.
"People have doubted this project," said Nancy-jo Manney, executive director, Greater Springfield Chamber of Commerce. "We are all excited to see the new redone project."
In July, mega-developer Vornado shuttered all of the interior stores as the first phase of the $200 million renovation began. But the project had lurched forward in fits and starts for so many years that many in the local business community were skeptical they would ever see a new mall.
Faiqa Bahtti, who works in sales at the Hilton across from the mall, walked over to the construction site on Monday morning to take photos of the demolition. "It's exciting to finally see it happen. People wondered if this day would come," she said.
In 2006, Vornado Realty purchased the mall for $171.5 million. In 2009, the board of supervisors approved rezoning of the property to permit Vornado's development plans. Soon after, any sign of redevelopment came to a halt. No construction equipment materialized, and shoppers saw the mall continue its slow decline.
In 2010, Vornado defaulted on its mortgage of $171.5 million, and then refinanced the mall for $115 million, a strategic way to alleviate debt.
"People have been disappointed in the past," McKay said, "but when everything is complete, the final product will knock your socks off."
Photo Gallery
Springfield Mall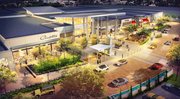 transformation of Springfield Mall into $200 million town center
Click Photo for Flash
THE NEWLY-RENOVATED MALL, which Shear said would open in the fall of 2014, will include an addition of roughly 700,000 square feet of retail, restaurants, a food court and a state-of-the-art movie theater. The 20-foot-tall brown numbers that indicated the mall's six main entrances—a hallmark of the 1970s-era mall—will be replaced with one central grand entranceway.
Though Shear said it was too early to disclose potential new tenants, he said the new center will have a more "upscale" tenant mix and the three anchor stores—Macy's, Target and JCP—will remain open during construction.
"There will be much more in terms of variety of shops," said Vornado's project manager, Bob Byrne, adding that the mall will be turned "inside-out," with outward facing storefronts in keeping with the town center look of the mall.
Later phases of the renovation—expected to take about 10 to 15 years—will complete the town center look, with a mix of upscale retail and commercial development, a 225-room hotel, pedestrian plazas, recreational facilities, 2,000 residential units and transportation improvements.
McKay and other county leaders have called the mall's renovation "the most important redevelopment project in Springfield."
Jerry Gordon, executive director of the Fairfax County Economic Development Authority, agrees.
He said Springfield has all the right pieces in place to experience a "rebirth" and create a vibrant new identity, despite its ubiquitous name.
"Every state has a Springfield, and Springfield, Virginia, has always been a bedroom community. Now it's changing, and that's exciting," Gordon said. "I think Jeff McKay has shown a great deal of leadership on this."
Gordon said the time is right for the community's transformation.
"You have transportation in place with the Mixing Bowl and a Metro station, and the jobs coming—an estimated 16,000 new jobs and $8-10 million in construction as a result of Ft. Belvoir's Base Realignment and Closures (BRAC)—and the next thing are the amenities, such as the new Springfield Town Center… This all contributes to a higher quality of life."
MCKAY SAID he was looking forward to new shops that cater to children, since he has two young children, "and good restaurants that my wife and I can enjoy."
He said the chunk of Garfinckel's—a place he remembers shopping with his mother, and being "bored to tears"—will take its place on a shelf in his office with other pieces of Springfield's past, such as Chi-Chi's Mexican restaurant and Circuit City.