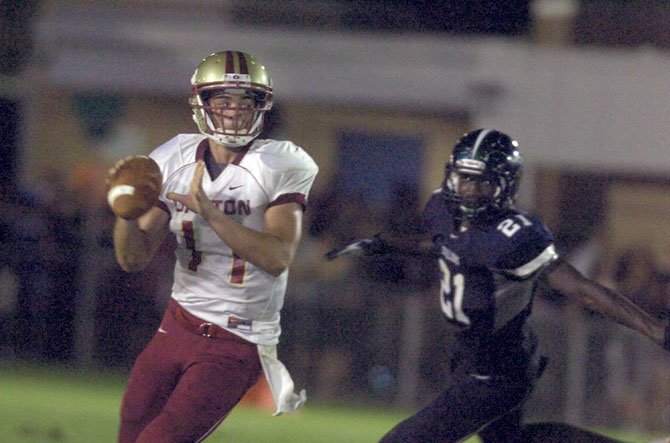 Lorton — Oakton quarterback Kyle Downer and the Cougar offense were on the field for all of six plays during the third quarter of their matchup against South County on Sept. 7. Meanwhile, the Stallions scored a touchdown, recovered an onside kick and reached the end zone a second time.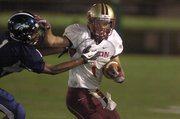 The South County football team had seized momentum, using an effective ground game to move the ball, chew up clock and keep the ball out of Downer's hands.
While his opportunities were limited in the third quarter, Downer made up for lost time in the fourth, using his right arm and his legs to assure Oakton remained undefeated.
Downer threw a 40-yard touchdown pass and scored on a 32-yard run in the final quarter, and the Oakton defense forced a turnover on downs in the red zone with 1:04 remaining as the Cougars defeated the Stallions, 28-21, at South County Secondary School.
"[The Stallions] took control of the tempo in the third quarter," Oakton head coach Jason Rowley said. "I think we only snapped the ball on offense [six] times and they got the onside kick … But like I told the players, facing that adversity, that's what they're going to face week in and week out in the Concorde District. This is a great win for our program."
One week after beating Madison, 35-13, Oakton improved to 2-0 with a victory of the nail-biting variety, thanks in large part to the performance of Downer. The Cougar field general completed six of 13 passes for 116 yards and three touchdowns, and carried nine times for 47 yards and a score.
"We'll go as far as Kyle Downer can take us," Rowley said. "He is a great football player. He can do it with his feet, he can do it with his arm, he just does a great job. He is the leader of our team."
Downer found Andy Boone for a 29-yard touchdown late in the first quarter, tying the score at 7-7. Late in the first half, Downer threw a 37-yard touchdown pass to Kelly Brooks-Muse, giving the Cougars a 14-7 advantage.
"We'll go as far as Kyle Downer can take us."

--Oakton football coach Jason Rowley
Oakton trailed early in the fourth quarter when Downer and Brooks-Muse connected for a 40-yard score, leading to a 21-21 tie. On the Cougars' next possession, Downer scampered 32 yards for what proved to be the winning touchdown with 7:22 remaining.
"That's a great team. They've been tested in battle," Downer said about South County, last season's Division 5 state runner-up. "I have so much respect for that team because they play us hard every single year and it just gives us that much more confidence moving forward."
The Oakton defense also came up big down the stretch. With the Cougars leading 28-21, South County drove the ball down to the Oakton 10-yard line with less than two minutes remaining. After stopping Stallions running back LeVaughn Davis for a two-yard gain on first down, the Cougars forced three straight incomplete passes, resulting in a turnover on downs. Junior defensive back Eric South, who snagged an interception earlier in the game, broke up the fourth-down pass near the goal line.
"I didn't have great coverage," South said about the fourth-down play, "but luckily I was able to get a tip on it."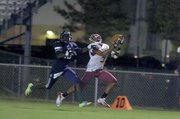 South County dropped to 0-2 with its second straight gut-wrenching defeat. The Stallions lost to Hayfield, 36-35, in their season opener, failing on a two-point conversion attempt in the closing moments. South County rushed for 245 yards against Oakton and Stallions quarterback David Symmes scored three touchdowns on the ground, but it wasn't enough.
"Last year we were [11-4] and we're a lot closer to being a good team at this point this year than we were at this point last year," said South County head coach Gerry Pannoni, whose Stallions started 0-3 in 2011. "Last year in this game we got beat 21-7 and it wasn't close. This year we left points on the board and we made some little mistakes. We correct the little stuff we're going to be OK—we're going to be good."
Oakton's home opener is Friday, Sept. 14 when the Cougars take on Woodson at 7:30 p.m. Oakton opens Concorde District play on Oct. 5 when the Cougars host Herndon.