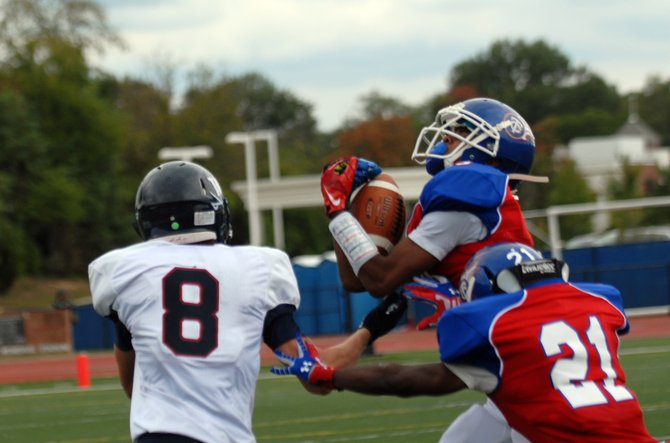 With five turnovers, including a lost fumble when victory was all but assured, the T.C. Williams offense allowed winless Woodson multiple opportunities to pull off an upset Saturday afternoon.
Luckily for the Titans, senior defensive back Timmy Rattanaphone was able to close the door on the resilient Cavaliers.
Making his first defensive start, Rattanaphone intercepted three passes, including one that ended Woodson's final drive, as the Titans defeated the Cavaliers 21-14 on Sept. 28 at T.C. Williams High School.
Rattanaphone said he felt ill the night before the game, but showed up ready to play.
"I always knew he could play," TC defensive back Philip Tyler said about Rattanaphone. "He has speed and stuff, [but] I didn't know he was going to do it like that. I'm really proud of him."
With standout defensive backs Rashawn Jackson and Tyrice Henry out due to injury, Rattanaphone, primarily a receiver, made his first start at safety. He ended Woodson's opening possession with an interception, giving TC the ball at the Woodson 38-yard line. Four plays later, quarterback Darius Holland connected with Terry Jordan for an 11-yard touchdown, giving the Titans a 7-0 lead.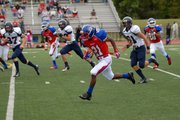 Rattanaphone's second interception halted Woodson's opening drive of the second half and set up a nine-play, 67-yard Titans scoring drive. Lamont Whiteside's 9-yard touchdown run gave TC a 21-7 lead with 7:55 remaining in the third quarter.
No. 9's final interception came with less than two minutes remaining in the fourth quarter and Woodson driving in TC territory with a chance to tie.
"He played outstanding," TC defensive coordinator Avery Williams said. "He's a smart football player. He's an outstanding athlete — one of our top athletes. He got the coverages down, he knew exactly what he was supposed to be doing and he was in the right spots at the right time."
The victory improved TC's record to 3-1. The Titans are off to their best start since 2005, when TC won its first three but lost its next six and finished 4-6.
The TC defense played a major role in Saturday's win, forcing four turnovers.
"We played our style of ball," Rattanaphone said. "We attacked, attacked, attacked."
Titans' special teams made an impact, as well. Tyler returned a punt 77 yards for a touchdown late in the first quarter, giving the TC a 14-0 advantage.
"It was return right, and I didn't have a return right, so I just cut back," said Tyler, who made his way up the left side of the field. "I saw Kevin Perry (make the) meanest crackback [block] and … my eyes just opened up and it was a touchdown."
"I always knew he could play. He has speed and stuff, [but] I didn't know he was going to do it like that. I'm really proud of him."

— TC senior Philip Tyler about Timmy Rattanaphone
While defense and special teams played well, the TC offense struggled. The Titans turned the ball over five times, including four lost fumbles.
With TC leading 21-14, Holland's 28-yard run gave the Titans a first down at the Woodson 46 with less than three minutes remaining.
With the Cavaliers out of timeouts, the Titans were in prime position to bleed the clock. Instead, TC lost a fumble on its next play, giving Woodson one more chance.
Cavaliers quarterback Patrick Riley moved the team into TC territory with a 14-yard pass to China Moon, but Rattanaphone ended the threat with an interception three plays later.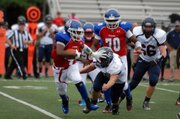 "I'm really proud of them," Woodson head coach Joe Dishun said. "They're very resilient. It kills us not being able to finish that off, but I really like the way they responded."
Woodson dropped to 0-4.
Riley completed 12 of 29 passes for 142 yards with one touchdown and three interceptions. Jimmy McLaughlin had four catches for 61 yards and a score. His 17-yard touchdown reception early in the second quarter cut the TC lead to 14-7.
Moon scored on a 30-yard run early in the fourth quarter, cutting the Titans' lead to 21-14. Zane Pritchett carried 17 times for 43 yards.
TC quarterback Holland completed 9 of 17 passes for 68 yards with one touchdown and an interception. He also carried 11 times for 50 yards.
Malik Carney finished with nine carries for 52 yards and Whiteside rushed 17 times for 49 yards.
"The bottom line is we won the game," TC head coach Dennis Randolph said. "Offensively, we just didn't click. We fumbled the ball five times, we gave up an interception. The defense kept us in the game. … Our kids just haven't got to the point where they actually believe that they're as good as they are. We've got to overcome that somehow. The defense is playing with a lot of confidence, the offense is not."
TC will travel to face Annandale (1-3) at 7:30 p.m. on Friday, Oct. 4. Woodson will host Oakton.