Alexandria — Lori Williams, one of MetroStage's favorite performers, will be in concert Monday, Oct. 15 at 8 p.m. when she officially launches her second CD, "Eclipse of the Soul." Lori was most recently seen at MetroStage in the world premiere award-winning "Cool Papa's Party" and prior to that she performed in "All Night Strut," a musical celebration of the '30s and '40s. She will be seen next January at MetroStage in the world premiere of "Ladies Swing the Blues." She launched her first CD "Healing Within" at MetroStage in 2010.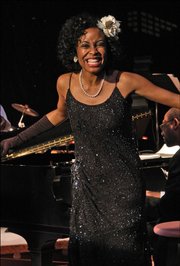 Lori will be performing with some of D.C.'s finest jazz musicians led by pianist and conductor, Allyn Johnson. The musical accompaniment also includes keyboard, drums, bass and saxophone and three back-up singers. Lori's sorority sister, Allison Seymour, well known to Washington audiences as the morning news anchor for WTTG, Fox Channel 5, will be the host for the evening.
Special guest and renowned gospel singer, Robert E. Person, who is also one of the backup singers, will perform the solo, How Great is Thy Faithfulness. This year Robert was honored with two awards at The Gospel Blue M.I.C. Achievement Awards held during the Indie Gospel Alliance Music Conference, was voted Artist of the Year and was awarded an exclusive distribution contract. Most recently, Robert was honored in Baltimore with the 2012 Newsome Gospel Music Award for Male Vocalist of the Year.
Both Lori and Robert have performed at the famed Blues Alley to sold-out audiences. Critics have compared Lori's combination of soul and technical prowess with Ella Fitzgerald. Great music, great artists, and beautiful souls are all performing here at MetroStage, Monday, Oct.15 at 8. Immediately following the performance there will be a meet and greet and reception in the lobby. The ticket price of $30 includes Lori's new CD. Other Cds, including Robert E. Person's "Soul Sanctuary" will also be on sale.
The theatre is at 1201 North Royal St. in North Old Town, Alexandria. Call 703-548-9044 for tickets or visit www.metrostage.org.