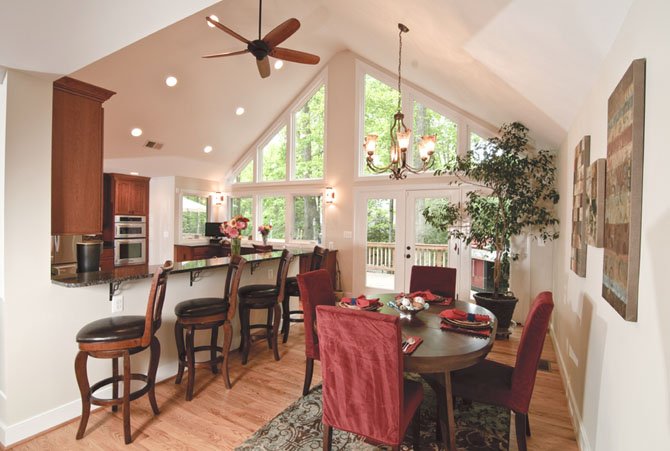 Fairfax County — Nick Bonadies can point to the 25' x 16' custom window wall in a newly remodeled home in Fairfax as a kind of triumph of glazing aesthetics over the challenges of wind. Bonadies, who is director of sales and design at Sun Design Remodeling, knows this problem well, and encounters it often: "Homeowners come to us for design ideas that will open up space and invite indoor/outdoor continuum," he said. "But new Fairfax County's rules on wind-resistance requirements for large-scale windows are quite technical, and demand thoughtful engineering."
For instance, since wind-load has been known to cause exposed windows to crack and even shatter, the code outlines exacting specifications on the relationship of a window's size to its distance from adjacent bracing panels.
Hence, Bonadies and colleagues are always investigating engineering solutions that will not only satisfy code, but give homeowners the exceptional effects they're seeking.
Case in point, Gini Mulligan, whose 2,200 square foot 1960s split foyer Sun Design recently converted into a 4,238 square foot French colonial complete with wrap-around porches, a new master bedroom suite addition, and a spacious gourmet kitchen that boasts a jaw-dropping view of towering backyard trees.
"We bought this house over 20 years ago — mainly because of the lovely woodland setting," Mulligan said. "So it's funny that I spent so many years gazing out of a small back window, trying to imagine how the house would feel if we could only create a stronger visual linkage to our surroundings."
"And the strangest part is — I knew what I wanted all along," she said, "I just didn't have any idea how to achieve it …until recently."
Recently would be the period in late last year when Mulligan began describing her vision to Bonadies and team.
"Every interior plan that concentrates on indoor/outdoor continuum will entail a lot of technical considerations," Bonadies explains. "And every now and then — one piece of the equation is especially tricky…asks you to introduce a wholly original process."
In this case, the sheer scale of Mulligan's vision — a two-story rear elevation window wall that enables occupants to see backyard tree tops even from the front foyer — presented dozens of feasibility questions, all of which had to answer to stringent code requirements. "We knew Gini's vision called for a custom-designed two-level frame," Bonadies said. "But here's the rub … the width of a wooden frame needed to ensure wind-shear resistance would be so thick it would actually restrict the view."
"That's when we proposed a steel 'moment' frame," he said. "This is still pretty unusual in a residential setting — but it's proven to be a very effective way to create a dramatic glazing component."
Among the challenges: zero tolerance for error. Since all the frame's constituent parts are created off-site, there's no way to cut, bend, shape or finesse its pure tempered steel once the on-site assembly is underway.
"The design and fabrication must be absolutely precise," Bonadies said. "Otherwise, the project fails."
To assist in the execution, Sun Design engaged a local sculptor known mainly for outdoor art forged by welding steel and iron. The process took two days. The glass panes — which have a high-level of thermal resistance — were, likewise, cut by hand and fitted into the frame.
"It all looks very delicate, and the process is quite intricate," Bonadies said. "But this window can withstand winds of up to 90 mph."
OTHER ASPECTS of the new interior focused on developing confluent traffic patterns, and — of course — unfettered sightlines.
"Every room in the house is visually linked to the setting," Mulligan said. "This time of year, we're treated to colorful oak and maple foliage. In winter, its snow-dusted hollies."
The gourmet kitchen itself — which required extending the floor space previously allocated to a small "bump-out" — was designed to recall the couple's two-level A-frame cabin on the Shenandoah River.
"The reverse gable and window expanse make the space feel much bigger than it actually is. Anyone coming into the house immediately gravitates towards the view," Mulligan said.
The reconfigured first level plan also proves congenial for any number of entertainment scenarios.
Last month the Mulligans hosted a fete for 300. Since the kitchen can be accessed from three sides — living room, dining room and back deck, Mulligan finds it easy to tend to both food preparation and hostess duties.
Counter surfaces with stools function as a handy serving station between the cook's work zone and the dining room. A second back-facing counter offers a comfortable perch for gazing into the leafy backyard over food and drink.
The feature that really unifies the first level plan, though, is a porch that wraps the house on three sides. The kitchen and two rear bedrooms offer direct access to the deck — a feature that allows inhabitants to wander spontaneously into the fresh air. The wide front porch is, likewise, an open invitation to sit quietly and take in the beautiful surround.