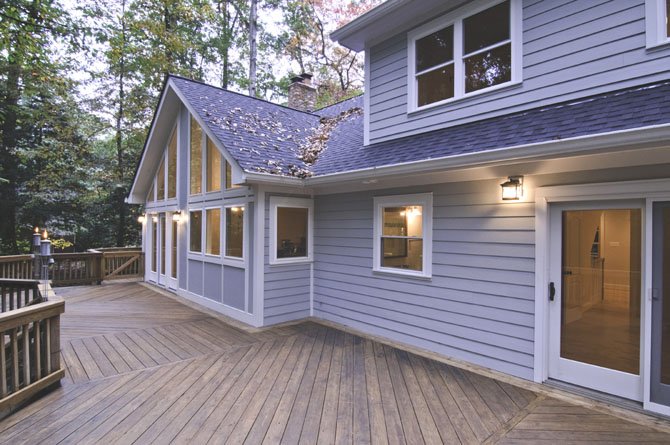 Tastes change; so, too, an owner's requirements of their home. In the early 1960s, for instance, no floor plan concept seemed better suited to the demands of modern life than the split level — which deployed half-levels to apportion interior space into sleeping zones, family gathering rooms and service areas.
Carrying the social engineering a step further, designers next introduced the "split foyer" which directs traffic up and down from a locale between two floors — giving equal value to kitchen and bedrooms above; family recreation and laundry below. But such schemes aren't for everyone and, more to the point, after years of application, restrictive rules — like walls — can wear thin.
Consider, for instance, the case of Gini and Bob Mulligan, 25-year occupants of a circa-1960s split-foyer situated on a wooded setting in Fairfax.
"We were really attracted to the extraordinary country setting when we bought this house in 1988," Gini Mulligan said. "It's very private, wooded acreage that really brings your attention to the beauty of nature. We were less attracted to the house itself, but thought, well … we can make some changes once we're settled in."
Fast-forward a couple of decades, and the re-thinking process is still underway. "We solicited ideas from a lot of remodelers, but modifications to a split foyer that worked for us weren't easy to come by. In the end, we decided that our surroundings called for a farmhouse with a big welcoming porch. Unfortunately, the conceptual drawings we received mostly just showed we weren't being heard. It was very frustrating."
Compounding the issue was the couple's extensive "wish list" — which included a large master bedroom suite; a gourmet kitchen; substantially enlarged living and entertainment spaces; private places for billiards and studio painting, and lots of natural light and visual continuum in all directions.
Ranked above all this, however, was a call to dramatically re-design the front façade. "A split foyer puts the front door midway between the first and second levels," Gini Mulligan said. "How do you modify a feature like that?"
Enter Craig Durosko, founder and chairman of Sun Design Remodeling.
"A split foyer is a fascinating challenge," Durosko said. "For starters, you have to eliminate the mid-level front-facing stairwell, and create alternatives that really advance the owner's vision. Typically, this is going to entail structural changes and a re-definition to the home's basic architecture."
The starting point is to concentrate on solving functional considerations, Durosko said. This drives the search for an architectural language that satisfies a broad criteria including the appropriateness of the home's design to its setting. Interesting, then, that what evolves out of routine space-planning is a rural variant of French Colonial style, associated with Louisiana and the Delta states — places where the indoor-outdoor component is a lifestyle essential.
"Relocating the front door to the second floor main level wrapped by a porch called for distinctive front stairs," Durosko said. "We designed the pavilion roof to reconcile the porch to the higher pitch of a new third level hipped roof. Three dormer windows — needed for natural light — followed from this."


THE NEW STYLE emerges in the details. The entry way is a glass-facing double French door. Six divided light windows now grace the re-imagined front elevation. Porch support piers are perfectly aligned with its roof columns. The broad flaring stairway narrows towards the top. Old brick was deployed to extend the existing chimney. In its essence, Durosko and team create a spot-on evocation of a "raised rural" French Colonial, a look originally created in the 18th century for just such a country setting.
By contrast, the remade interior explores "open" floor plan sensibilities — emphasizing uncluttered sightlights and easy circulation.
A footprint above the garage is allocated to a sizeable master suite with 15-foot cathedral ceilings and generous views of the leafy lot from front and back. Three small bedrooms on the home's south side are converted into a generous guest suite complete with its own rear entrance. Front-facing rooms are converted into a library (which accesses both suites) and the new locale for a mid-house staircase linking both the existing lower level and a new third floor.
Other small changes expand the home's primary living area. Deleting just 90 square feet of mid-level foyer permitted designers to reconfigure the living room and dining room into an L-shaped "great room" wrapping a new gourmet kitchen which opens on two sides.
The kitchen's cathedral ceiling — crowned with an extensive window wall — invites natural light and visual continuity. As Gini Mulligan tells it: any seat in the primary living area is visually linked to the wooded setting from all sides.
On a similar note, relocating the stairwell and opening some walls transforms the lower level into a light and airy family entertainment center. The third floor — which Gini Mulligan plans to use as an art studio — likewise, gains light from dormers in both the front and the back.
For the Mulligans, though, what really matters is how well the new house validates a long-forestalled personal vision.
"Rocking on the front porch in the morning or the evening surrounded by trees is just deliciously satisfying," Gini Mulligan said. "The house is a perfect realization."
On this point, others concur. The makeover was recently named the region's best residential addition in the $100,000-$250,000 category by the National Association of the Remodeling Industry's metro Washington chapter.