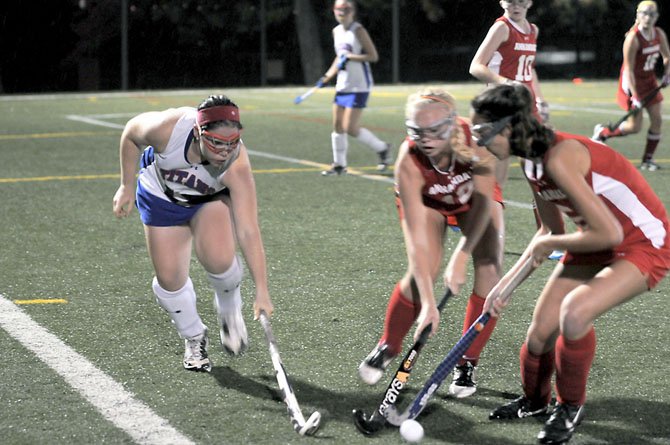 Alexandria — Megan Boyle had a message for her teammates as members of the T.C. Williams field hockey team huddled around the senior goalkeeper prior to facing Annandale in the first round of the Patriot District Tournament.
"I don't want this to be our last game," Boyle said. "We have the potential to go so far. You have to want it."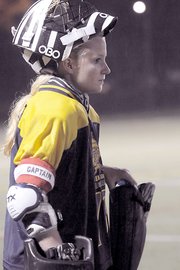 Early in the season, Boyle said the Titans were capable of success, but needed to believe in themselves. After TC walked off the field Monday, having extended its season with a fifth consecutive victory, Boyle pointed out that belief had arrived.
Fourth-seed T.C. Williams defeated No. 5 Annandale, 2-1, in the first round of the district tournament on Oct. 15 at Minnie Howard. The Titans advanced to the semifinals and secured a spot in the Northern Region Tournament for the first time since 2009.
"We finally got it," Boyle said. "We were stuck in a bit of a rut in the beginning of the season and we finally got out. This is our fifth win in a row. We definitely started to believe in ourselves and it shows."
TC sophomore midfielder Megan Laychak scored the game-winner off a corner with 3:07 remaining in the second half. Annandale had tied the score at 1-1 with 12:30 remaining, but the Titans found a way to bounce back after losing a lead they had held since the opening minutes of the game.
"We were just staying positive and communicating with each other," Laychak said. "We were saying we got this. We had it the whole game and we just kept pushing."
TC head coach William Heresniak said this year's Titan team plays with strong desire.
"We're a different team this year," he said. "It's more about heart and wanting it than anything else. … "We've come back this year against other teams and we know that we can do it, so the players have faith in each other. That's the big thing."
"We're a different team this year. It's more about heart and wanting it than anything else."

— T.C. Williams field hockey coach William Heresniak
TC jumped out to a 1-0 lead when junior forward Katherin Jerakis scored off an assist from senior Emma Bracken during a corner just 75 seconds into the game. The Titans held the lead for more than 46 minutes until Annandale tied the score.
"We always talk about coming out and scoring in the first five minutes and the last five minutes and we haven't really done that consistently this season," Bracken said. "So getting that first goal kind of let us get our nerves out and let us settle down a little bit. Scoring first really gives us the momentum, which we kind of carried throughout the game."
TC defeated top-seed West Springfield in the district semifinals on Wednesday and will play in the championship game against South County at 7 p.m. on Thursday, Oct. 18 at Lee High School.