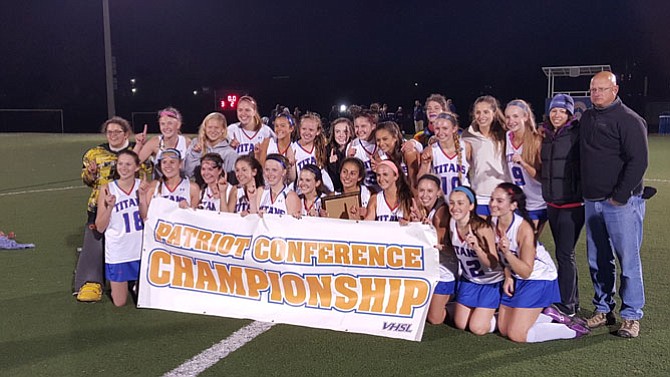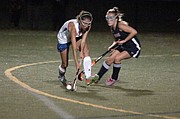 After members of the T.C. Williams field hockey team gathered to be recognized following Monday's Conference 7 tournament final, principal Jesse Dingle handed the championship plaque to head coach William Heresniak, who passed the award to senior Philomena Fitzgerald.
With the postgame celebration continuing, Fitzgerald, a team captain, started to get emotional while describing what the Titans had just accomplished.
"It means a new beginning for TC field hockey," she said. "We're definitely a threat for the conference level, and the region. I'm just excited to see how far we get [in] the region."
No. 1 seed T.C. Williams defeated No. 3 Woodson 3-0 on Oct. 26 at Minnie Howard, earning the Titans their first conference/district championship since 1995. TC dominated throughout, building a 2-0 halftime lead before adding an insurance goal with 3:05 remaining in the contest. The Titans held a 17-1 advantage in corners.
T.C. Williams produced quality teams in recent seasons, but had failed to end a championship drought that would have reached 20 years if not for Monday's victory. The Titans advanced to the Patriot District championship game in 2012, but lost to South County. Last year, a 12-3-1 regular-season record went for naught as the Titans were upset by Woodson in the opening round of the conference tournament, ending their season.
This year, TC's regular-season dominance has extended into the postseason. Monday's victory over the Cavaliers improved the Titans' record to 18-1 and extended their win streak to 14 games.
"When I got moved up my freshman year (2012), we went to the conference finals and we lost [in the final minutes], and that experience as a freshman made my love for field hockey so much stronger," Fitzgerald said. "To be here three ... years later in the same place but winning just means so much."
None of the current T.C. Williams players had been born the last time the Titans won a district championship.
"That's crazy," senior Tatiana Gold said. "It's kind of mind-boggling, honestly."
Fitzgerald, who will play at College of the Holy Cross, is a standout and one of the team leaders in goals and assists ("We would not be here without Phil," Heresniak said), but the Titans' success has come mostly through evenly distributed goal scoring. TC outscored opponents 8-0 during the conference tournament, with five different players scoring at least one goal.
On Monday, Claire Bilodeau scored with 22:01 remaining in the first half, with an assist from Josie Brocato, giving TC a 1-0 lead. Gold scored with 11:30 left in the first half, extending the Titans' lead to 2-0. Sophie Johnson had the assist.
Celia Holubar scored with 3:05 remaining in the second half, giving TC a 3-0 lead.
"It's not somebody scoring 13 or 15 or whatever," Heresniak said. "I've got ... at least four players who are scoring six or more goals and they're at different positions. Some of the scoring comes off corners, but a lot of it is just off of ball movement as we're working the ball down field. That's been our key is ball movement, and almost anybody's a threat."
Gold's goal was her first since returning from a broken thumb she suffered on Sept. 17 during a game against Mount Vernon. Gold needed surgery on her right thumb after being hit by a line drive and missed a month. She returned for the Titans' conference tournament quarterfinal matchup against Annandale on Oct. 20, wearing a padded brace. She also wears a brace on her left knee due a torn ACL she suffered while playing soccer as a sophomore.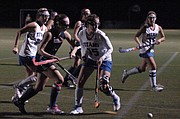 "She's had a couple unfortunate injuries the past two years, and you knock her down, she gets back up; you knock her down, she gets back up," Heresniak said. "She put a couple goals in in key games at the beginning of the season, then she broke a bone in her hand and had pins in it. She came up to me about ... 10 days ago and she came back from the doctor and she said, 'Look, my pins are out, I can play,' and she's there. She's just a great kid. Nothing keeps her down."
Gold is in her third varsity field hockey season.
"Going through two major injuries has given me a new perspective," Gold said. "I've really gained an appreciation for sports. Coming back and seeing my team work so hard ... [and] to recover from injuries and to keep going and pushing myself as hard as I can, knowing that this could be the outcome is just something that's really special to me."
With Monday's victory, T.C. Williams secured Conference 7's No. 1 seed in the 6A North region tournament. The Titans host McLean, the No. 4 seed from Conference 6, at 7 p.m. tonight at Minnie Howard. The winner of T.C. Williams and McLean will face the winner of Osbourn Park and Robinson at 7 p.m. on Thursday, Oct. 29.
How did Heresniak, who has coached at T.C. Williams since 1996 and took over as head coach in 2009, describe the accomplishment of winning a conference title?
"It's huge," he said. "There's a lot of history that goes with it."