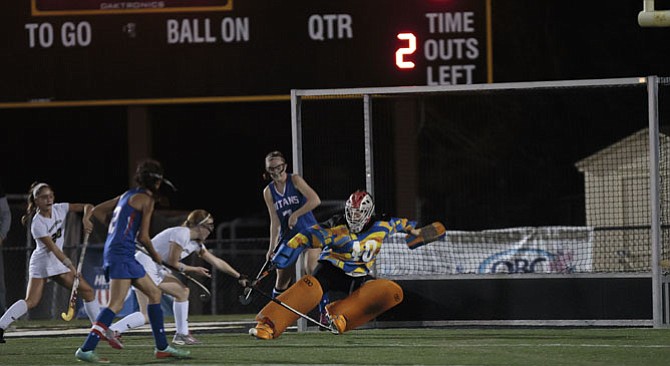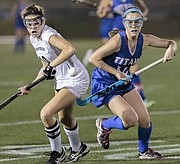 The T.C. Williams field hockey team on Nov. 5 experienced defeat for the first time in more than two months, when the Titans suffered a 1-0 overtime loss to Westfield in the 6A North region championship game.
While TC missed an opportunity to capture the program's first region title, the Titans have the chance to bring home a trophy that carries even greater prestige.
T.C. Williams will travel to Virginia Beach to face 6A South champion Frank W. Cox in the state semifinals at 10 a.m. on Friday, Nov. 13 at the National Training Center. The winner of TC/Cox will face the winner of Westfield and First Colonial in the state championship game at 10 a.m. on Saturday, Nov. 14.
T.C. Williams enters the state tournament with a 21-2 record, but had its 17-game win streak snapped by Westfield, when Bulldogs sophomore Mackenzie Karl scored less than two minutes into overtime.
"I think it was kind of tough for us to come up [just] short," TC senior Tatiana Gold said, "and to come up with a loss so early in the overtime."
How have the Titans handled the defeat?
"The loss has pushed us to work harder," TC senior Philomena Fitzgerald wrote in an email, "so that we can get to the championship game to potentially have a rematch."
Did the Titans learn anything from the loss?
"The younger players learned to lose honorably," TC head coach William Heresniak said. "That's hard to find these days with some of the professional athletes we see on TV and the way they act when they lose. As a coach it's important to teach your kids how to win, but more importantly to keep your head up when you lose, show respect and move on."
The Titans are moving on to a state tournament that is played on AstroTurf, which makes for faster pace of play. TC has practiced indoors to replicate the speed of play.
"We love to play fast," Heresniak wrote. "The girls can't wait to play."
The Titans will leave for Virginia Beach on Thursday via charter bus.
"It's a special thing to be cherished and enjoyed by all," Heresniak wrote. "This year is special. This team is unlike any team I have ever coached. Each person fits in like a jigsaw puzzle. We are a big family. We love spending time together. This season will be remembered by many. I am glad I was able to be a part of it."
What are the team's expectations for states?
"I expect to win," Heresniak wrote. "The girls expect to win. How can you not? This is what dreams are made of."