The Herndon Rotary Club has announced this year's Citizen of the Year: Arthur Nachman is the 47th recipient of this highest honor, presented annually by the club.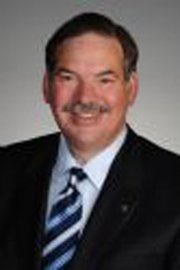 Nachman has been an active community supporter in the Herndon area for many years. One of his major areas of support has been the band programs at the high school, middle school and elementary school level. In her nomination letter, Kathleen Jacoby, the director of bands at Herndon High School noted, "Mr. Nachman was the first person to ever unite all six elementary band directors in Herndon to form a united vision." In addition, he has been instrumental in providing instruments for needy students, arranging for professional musicians to visit schools and personally providing private percussion lessons for students who could not afford them.
Nachman has also been active with the Council for the Arts and their public art project which places murals on the outdoor walls of downtown Herndon businesses. Through his assistance and support, two murals are already in place and two more will be installed soon. Nachman also was a primary organizer of the effort to have two turf fields installed at Herndon High School. This effort required coordination of various local sports programs, the Fairfax County School Board and bank financing.
Nachman will be honored at a banquet to be held at the Dulles Hilton, 13869 Park Center Drive, Herndon, on Wednesday, Oct. 24 at 7 p.m. Everyone is invited to participate.