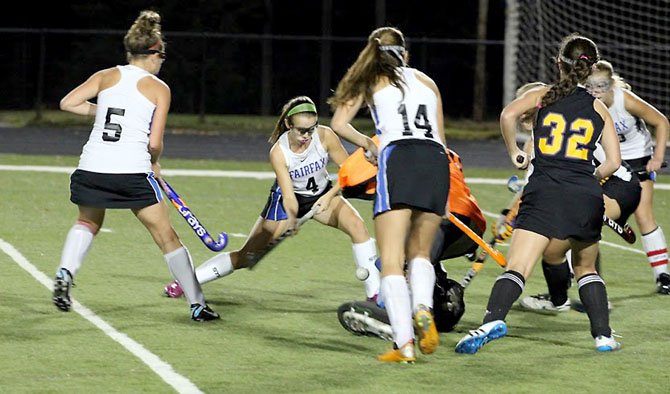 Fairfax — There was no celebratory pile-up from members of the Fairfax field hockey team. No one dumped the contents of a water cooler on Rebels head coach Amber Beaudoin and no players were lifted on top of shoulders and carried off the field.
When the final whistle sounded, signifying victory against Lake Braddock on Tuesday in the opening round of the Northern Region tournament, the Rebels were reserved in their celebration. After four consecutive Liberty District championships and four straight seasons with at least one win at regionals, head coach Amber Beaudoin said the team's elder athletes are in search of something greater than what beating the Bruins could provide.
Fairfax defeated Lake Braddock, 1-0, on Oct. 23 at Fairfax High School. Sophomore forward Charlotte Duke scored the game's lone goal with 2:25 remaining in the first half, helping the Rebels advance to the quarterfinals where they will face Herndon at 7 p.m. on Thursday, Oct. 25.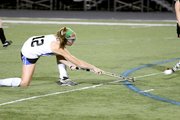 BEATING THE BRUINS was the Rebels' first step toward reaching their goal of a state tournament berth, which would likely involve defeating South County in the region semifinals. South County knocked Fairfax out of the regional tournament each of the last three years, ending the Rebels' 2009 and 2011 seasons in the semifinals and their 2010 campaign in the quarterfinals.
South County faces Oakton in this year's quarterfinal round.
"Particularly the seniors; they've won four district titles in a row. There's really not much else left for them [to accomplish], and the hurdle of their entire high school career in hockey is we want to beat South County," Beaudoin said. "Every game before [the potential South County matchup], it's exciting, it's challenging, it's where they want to be, but they have their eye on the prize."
Tuesday's first step wasn't an easy one for Fairfax, which faced a Lake Braddock team that entered regionals as the Patriot District's No. 4 seed despite excelling during the regular season. After starting 0-2, the Bruins won 13 of their final 14 regular season games.
"I definitely felt relieved [after beating the Bruins] because it was kind of a fluke that they were the fourth seed in the Patriot District," Fairfax senior Shannon Cosgrove said. "They're always a top-four team. We were really nervous about playing them in the first place. Pulling through in the end, we were really relieved."
"Particularly the seniors; they've won four district titles in a row. There's really not much else left for them [to accomplish] and that's the hurdle of their entire high school career in hockey is we want to beat South County,"

--- Fairfax field hockey coach Amber Beaudoin
Lake Braddock couldn't have been thrilled with the matchup, either. After entering the Patriot District tournament as the No. 2 seed, the Bruins lost to No. 3 South County in the semifinals and No. 4 T.C. Williams upset No. 1 West Springfield, meaning Lake Braddock finished fourth. The result was a matchup with a Fairfax team that had lost only one game all season.
"We all knew they were a really good team and we knew we had to come out strong," Lake Braddock senior and Patriot District Player of the Year Maria Jose Pastor said. "It wasn't going to be an easy first round, but we were just thinking that if we got through this, it couldn't get tougher than this until [the] semifinals."
Lake Braddock wasn't able to get past Fairfax due in part to missed opportunities. The Bruins had 15 penalty corners, compared to eight for the Rebels, but failed to score.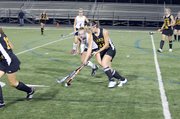 Lake Braddock head coach Amy Worrest said the Bruins relied too heavily on Pastor to create.
"It's unfortunate for [Pastor] that she didn't get to go on to show some other coaches in the region what she's capable of," Worrest said. "She's the best all-around hockey player that I've ever seen. One player can't do it all. Not to say that she's the whole team, it's just the other girls sometimes settle in a little bit once they get comfortable with her with the ball."
Along with Pastor, senior forward Taylor Livick and junior defender Vanessa Girata were named first team all-Patriot District. Senior forward Rachel Wimer was the team's leading goal scorer with 14.
"I'm just proud of my girls," Worrest said. "We had a good season, we had a successful season and we just couldn't get it together."
With Lake Braddock failing to capitalize on offense, Fairfax needed just one goal to earn the win. Duke scored late in the first half, moments after senior midfielder Sam Zelenack hit the left post with a shot.
"I think always after we score we get more confident," Duke said. "We start passing around [and] we realize that it's our game. We definitely started playing our game instead of their game after that."
Cosgrove, Zelenack, junior midfielder Sara Allen and sophomore defender Meg Robertson were selected to the all-Liberty District first team. Beaudoin was named Coach of the Year.
Before Fairfax can arrive at its goal of qualifying for states, the Rebels must defeat Herndon in the quarterfinals. The Rebels beat the Hornets, 4-0, on Sept. 15 in the championship game of the Herndon Invitational.
"It's really hard to beat a team twice," Zelenack said. "We know that."
WITH THE WIN against Lake Braddock, Fairfax improved to 18-1. The Rebels have outscored their opponents 55-5. Fairfax's lone defeat was a 3-0 loss to Westfield on Sept. 24. Westfield, the Concorde District champion, is 16-0 against Northern Region foes, outscoring those opponents 87-3. Fairfax would not have to face Westfield again until the region championship game. By that point, the Rebels would have already secured a state berth.
Is going to states a realistic goal for Fairfax?
"Yeah," Cosgrove said. "We just have to beat South County, who knocks us out every year ..."