If you are a teen, or a parent of one, longing to indulge in one last burst of summer, you're in luck: Former McLean author Shannon Greenland recently published "The Summer My Life Began," a tribute to the long days and many free hours of summer.
In Greenland's young adult novel, readers follow Elizabeth Margaret, or "Em" during the last summer before attending her freshman year at college. Her future has been predetermined by her parents: ivy league education, summer internship with her father's law firm, and a job with the law firm upon earning her law degree.
Em, having resigned herself to this life of unwelcome legal drudgery, was blindsided by a graduation card from her aunt. Aunt Tilly, whom Em and her sister had never heard of, invited Em to spend the summer at her Outer Banks Inn. After some fancy finagling with her rigid parents and grandmother, Em finally makes it to her aunt's inn. While trying to make sense of an unexpected summer romance, it soon becomes clear that Aunt Tilly is hiding something. And during her stay Em uncovers quite a secret; one that changes her life.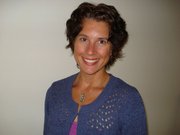 The novel has all the right ingredients for a young adult audience; and with reason. Greenland, who spent the last several years in McLean until her recent move to Florida, spent three years teaching math at Longfellow Middle School. She knows her audience. "What kid doesn't love the beach," she asked. "And what girls don't like cute surfer boys?"
Greenland, who also wrote a series of spy novels called "The Specialists," was asked by her publisher to write a single title teen romance. She wanted to somehow incorporate the common struggle that so many of her students faced. "I've been a teacher so long. I've seen students come and go. They constantly struggle with the theme of this book, which is trying to please your parents. But also, trying to find your own way in life. It seems to be a constant struggle with students I've taught over the years."
Greenland's advice to teens considering a career in writing is "write. And don't worry about the specifics. Let the words flow as you write. Write a little bit every day." And her advice for teenagers in general? "Listen to your heart and brain in equal portions. Listen to your heart when you're making decisions, but listen to your head, and let logic guide you a little bit."
Greenland's books are available in most formats, and at local bookstores.