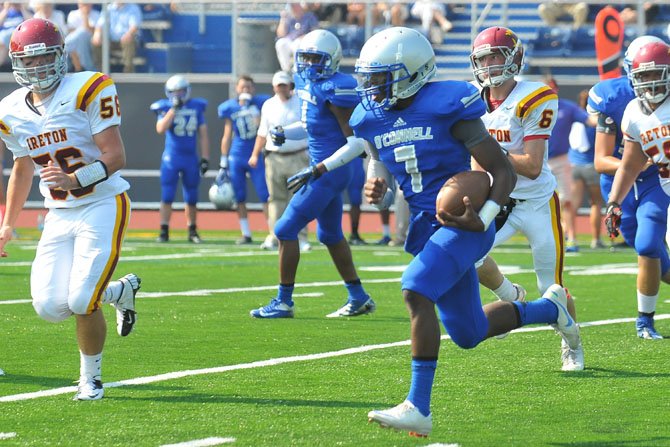 Arlington — A celebration of Bishop O'Connell's new turf-covered Monsignor James W. McMurtrie Field preceded the football team's 2012 season opener against Bishop Ireton on Aug. 31. Once the game started, it didn't take long for O'Connell festivities to reach the end zone.
O'Connell scored a touchdown on its first play from scrimmage — a 3-yard run by Kamrin Moore — and the Knights, led by first-year head coach Del Smith, cruised to a 27-12 victory against the Cardinals in Arlington.
The O'Connell defense forced a three-and-out on the game's opening possession. Facing fourth-and-20 on its own 10-yard line, Ireton lined up to punt, but a bad snap gave the Knights possession on the Cardinals 3 and Moore capitalized one play later. O'Connell scored touchdowns on its first two possessions and led 27-0 with 9:40 remaining in the third quarter.
"It's a wonderful experience. I'm glad that they gave us the opportunity to play on this new field," Moore said after the game. "… We played well. We were ready [and] well prepared for this game. We put a lot of effort in in the offseason and we knew that we couldn't come out of here with anything less than a W."
Moore, a junior running back and the Knights' captain, finished with 11 carries for 97 yards and two touchdowns, but left the game early in the third quarter with cramps on a hot afternoon. His 35-yard touchdown run with 8:26 remaining in the second quarter gave O'Connell a 21-0 lead.
"It's a wonderful experience. I'm glad that they gave us the opportunity to play on this new field."

— Bishop O'Connell running back Kamrin Moore
"Kam Moore is definitely a vocal- and example-type leader for us," head coach Smith said. "And I was proud of his performance in the first half."
Senior quarterback Leighton Dassau also had a big day for O'Connell, leading the Knights' spread offense to 353 yards. He completed 13 of 23 passes for 126 yards, and he rushed 12 times for 102 yards and a touchdown.
"I give credit where credit is due," Dassau said, "so our line was great throughout the first and second quarters."
Dassau is in his second season starting for O'Connell after transferring from DeMatha.
"Leighton's a guy that when we got here and worked him out for the first time, we said this kid can be successful here in the right system," Smith said. "We feel like putting him in the shotgun, letting him scan the field and having our athletes on the perimeter, we think we're going to win a lot of games with him."
Moore and Dassau each praised Smith, who was an assistant at Division III Bridgewater College last season.
"He wants us to improve, especially from last year, and make a … comeback," Moore said. "He pushes us to our potential. He loves us, I know he does. He's just a great person and a great coach."
Said Dassau: "Coach Smith is amazing."
Anton Woody rushed for 28 yards and a touchdown for O'Connell. Earon Settles had five receptions for 55 yards and Kevin Wood caught three passes for 36 yards. After the game, Smith presented junior lineman Andrew Tessier with the game ball.
"It was a live environment," Smith said. "If you would have seen this place four days ago, I don't think there was a plant in yet. The transformation of this facility over the course of the last four days has been crazy and it's also added a lot of pressure: Wow, they're really putting the right foot forward here and obviously there was a lot of financial commitment to this facility. We've been working really hard to get this win."
O'Connell will travel to face Massanutten Military Academy at 1 p.m. on Saturday, Sept. 8 in Woodstock, Va.