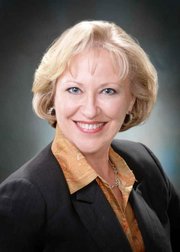 "As superintendent, I plan to be very visible. The best part of my day will be when I'm in schools to be with children and to better understand the needs of our schools."
-Dr. Karen Garza
The Fairfax County School Board unanimously approved educator Karen Garza of Texas to be the next superintendent of the 181,000 student district at its April 18 school board meeting.
For the past four years, Garza has been the superintendent of the Lubbock Independent School District, which serves approximately 30,000 students in Lubbock, Texas. She will succeed retiring Superintendent Jack Dale on July 1, 2013. Her four-year contract runs through June 30, 2017, and she will earn $265,000 in her first year.
"I'm thrilled that we have been able to finalize the appointment and contractual arrangement with Dr. Garza," said Ilryong Moon, Fairfax County School Board chairman. Moon said several school board members visited Lubbock early last week and "all of us came away extremely impressed with the community's observations regarding Dr. Garza's tenure as its superintendent."
"I could not be more pleased with the outcome of our extensive search process for a new superintendent," said school board member Ryan McElveen (at-large.) McElveen said one of the primary characteristics the community hoped to see in a new superintendent was the willingness to engage with the community.
"Although that can be extremely difficult in a county as large and congested as Fairfax County, we could not have found someone more ready and willing to do so than Dr. Garza. Our site visit last week to Lubbock, Texas, proved her ability to engage and positively transform an entire community," McElveen said.
Garza flew to Fairfax last Thursday to accept the appointment in person, and toured several schools on Friday, meeting with teachers, students and administrators.
"I am very humbled and excited to be selected by this board," she said. "It is truly an honor and a privilege to join such a renowned school system." Garza said she will be "responsive and accountable" to all FCPS stakeholders and will support efforts already underway to provide FCPS students a world-class education.
"As superintendent, I plan to be very visible. The best part of my day will be when I'm in schools to be with children and to better understand the needs of our schools," she said.
Prior to her role in Lubbock, Garza served as the chief academic officer of the Houston Independent School District, the seventh largest school district in the country. As chief academic officer, the district's second position to the superintendent, Garza was responsible for both instruction and facilities for more than 200,000 students.
"She comes to Fairfax County with a deep commitment to openness and engagement and is eager to work collaboratively in the best interest of all students," Moon said. "As Dr. Garza knows, the bar is set high in Fairfax County. The board looks forward with great excitement to working with Dr. Garza as it builds upon past successes and moves forward in a new era for FCPS."
The school board will begin planning a series of transition activities and public meetings for Dr. Garza before she begins her tenure as FCPS superintendent on July 1.