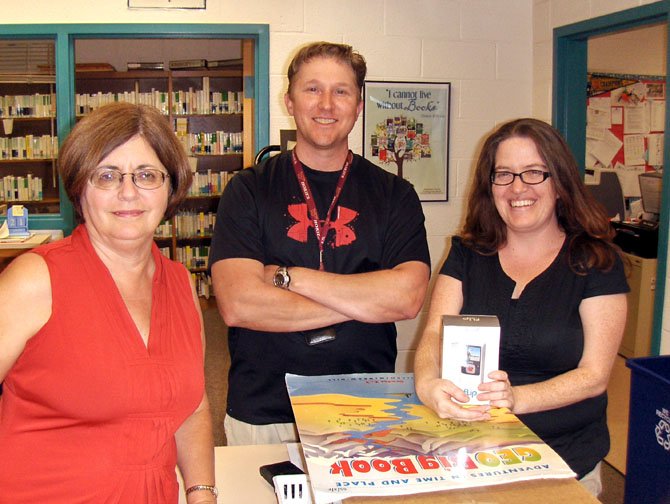 The bells have all rung and the students returned to their classes this week. But school started earlier for their teachers, who spent part of their summer working on lesson plans and readying their classrooms for the new school year.


POPLAR TREE
A teacher for two decades, Rob Thompson is in his 15th year teaching P.E. at Poplar Tree Elementary. "I'm happy and excited about the start of school," he said. "I just enjoy this time of year — the energy of the kids and the fall weather; we can go outside for P.E."
"The kids love P.E., so they're positive about it," said Thompson. "They always want to run around, play games and sports and get their energy out, after sitting in their classrooms.
Librarian Cindy Uncles has been at the school since it opened in 1990; she taught fourth grade then and has been the librarian for 10 years. She, too, is glad when school begins. "I love the newness of everything," she said. "I can't wait to put out the new books and see the kids get excited about them."
Last Thursday, Aug. 30, was Meet-Your-Teacher day at Poplar Tree, and the children also visited Uncles in the library. "They came in and asked what new books I had," she said. "I also do our daily news show with two other teachers, so they asked about that, too."
Pleased to be the librarian, she said, "I see every child in the school at least once every two weeks; and the little ones, I see every week. I love books and sharing them and my expertise about them with the kids."
A special-education teacher, Mandy Moore has taught students with intellectual disabilities at Poplar Tree since 1999. "The kids want to be here," she said, adding that what makes her job worthwhile is "the tiny victories and the small improvements they make." She also wants to make sure "that all the things we taught them last spring are still with them in the fall."
She's spent the past few weeks setting up her classroom, preparing lessons and studying the curriculum. "My students have the same grade-level curriculum as their peers," said Moore. "We just adapt it."


CHANTILLY HIGH
Incoming freshmen aren't the only ones new to Chantilly High this year. English teacher Jordan Fremuth just moved here from Pittsburgh a couple weeks ago. He taught English at Fox Chapel Area High School in Pittsburgh and was hired by FCPS in mid-June.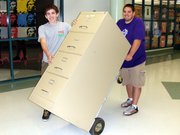 "Teaching jobs in Pennsylvania are few and far between," he said. "But my girlfriend was coming to American University as a grad student and we wanted to move together." So he's now at Chantilly and glad to be there.
"In a lot of ways, the schools here demand more of the teachers, which is important," said Fremuth. "I want to make sure the students will get the best out of me." He said the teachers, students and "every member of the staff" have been "incredibly welcoming and helpful" to him. "After only four days of in-service, you get the sense you're part of a team here at Chantilly and we're going to succeed."
He was also pleased that, in the English Department, the other teachers wanted his opinion on how to set up the major course work. They collaborated on deciding which books the students will read and the papers they'll write. That way, the teachers will be able to compare data and results.
Fremuth will mainly teach 10th grade and says he's both eager and anxious about it. "Being in front of students again gets the excitement going," he said. "They're fun."
Special-ed teachers Patti Caplan and Karen Beers both teach students with intellectual disabilities. Caplan's beginning her 13th year at Chantilly and Beers is starting her 17th, and both are thrilled about the new school year.
"I always feel very enthusiastic about it; I believe everything's going to be great," said Caplan. "But I'm also overwhelmed because of all the state-mandated changes in the Special Ed Department."
Still, she wouldn't trade her job for the world. "You really feel like you're making a difference in someone's life every day," she said. "And sometimes, you feel like you're the best part of their day. We have a great bunch of teachers here, and I love the students. You remember what they were like when they first came in, and then you see the transitions and changes to somewhat of an independence."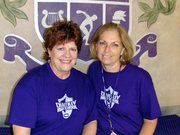 Beers is also delighted that Chantilly Principal Teresa Johnson is at the school's helm. "Teresa was our assistant principal here and direct supervisor of the Special Ed Department, prior to becoming principal," said Beers. "So she understands the whole program and is such a wonderful resource for us."
During the summer, she said, "I miss my students and can't wait to see them again. They love being at school with their friends and all the staff. They also tend to be very giving and so much fun to be with. And any little piece of growth they show can be just phenomenal for them."
Also ready for the new school year is sophomore Joey Lisko who said he felt "refreshed" after summer vacation. "I play bass guitar and I did a lot of band practice," he said. "I'm looking forward to coming back because, this year, I'll be in the higher jazz band. I'll get to step it up a level and play in Jazz & Pizzazz in the spring. I'll also play guitar with the indoor drumline and marching band in the winter."
Associate Band Director Chris Singleton is starting his second year at Chantilly. He and Band Director Drew Ross both direct the marching band, and Singleton also directs the concert band, Workshop Jazz, Percussion Ensemble, indoor drumline and indoor Color Guard.
"It's a lot of fun getting to work with the kids," he said. "It's also a lot of work, especially during marching band, but it's rewarding when you see all the hard work come together for the final product." Singleton teaches some 200 students and, this year, he feels more confident. "Last year, it was a completely new thing," he said. "This year, I know what'll happen, instead of just reacting."
Local residents may see his young musicians in action, Sept. 14, at the Chantilly Chargers' next home football game, against Langley High. Later on, the fall concert for all band groups, except marching band, is slated for Nov. 20 at 7 p.m. in the school theater.


WESTFIELD HIGH
Freshman Fatima Rivera was "pretty nervous" about beginning high school at Westfield. "I've got to get used to a new environment and meeting new people," she said. But she was eager to start her biology and journalism classes and possibly join the lacrosse or soccer teams. And, she added, "I'm looking forward to going to the football games."
Bill Schnepper is assistant band director at Westfield. "What's fun for me is seeing kids I've taught in elementary school," he said. "Last year, we had a fantastic year. Our bands cleaned up at the competitions and we had a really good group of kids. This year, it looks like another great, cohesive group of students, and we're looking forward to our band holiday concerts, Dec. 7-9."