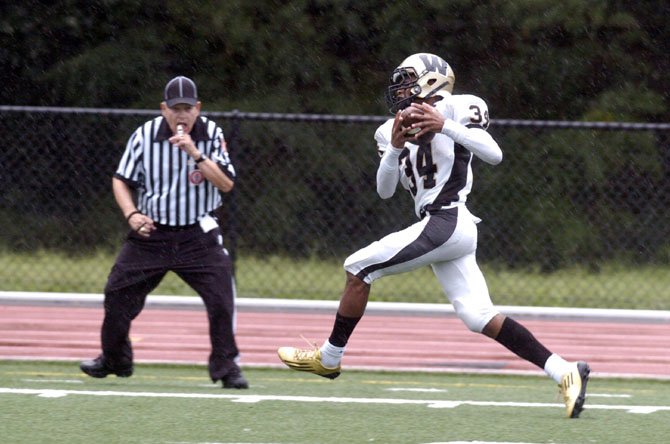 Alexandria — The T.C. Williams football team had weathered the storm — both literally and figuratively — against Westfield on Sept. 8 and forced the Bulldogs into a fourth-and-10 on the TC 26-yard line with less than five minutes reaming in the first half.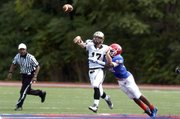 After TC fell behind, 14-0, and both teams endured a nearly hour-long weather delay, the Titans responded by forcing a turnover and scoring a touchdown, and now TC had a chance to get the ball back once again. But while the Titans showed resiliency to get to this point, the result was one of many missed opportunities for a TC team trying to prove it could play with the big boys.
Westfield quarterback Chris Mullins pitched the ball left to running back Dalaun Richardson, who raced 26 yards into the end zone for the first of three consecutive Bulldog touchdowns as Westfield throttled the Titans, 55-28, at T.C. Williams High School.
Westfield led, 14-0, early in the second quarter when both teams were forced to leave the field and head to their locker rooms due to a severe storm warning in the Alexandria area. When the teams returned to the field after nearly an hour, the scoreboard at Parker-Gray Stadium had lost power, but that didn't stop Westfield from piling up the points. Six different Bulldogs reached the end zone at least once, led by Devon Burns' three-touchdown performance.
"I don't know how many games you give up 55 points and expect to win," TC head coach Dennis Randolph said. "… I thought we needed 21 points to win this game. It turned out we needed more."
"Devon's a transfer to us and we were looking for somebody that could give us a deep threat, so it's like somebody wrapped a present and sent it to us."

— Westfield head football coach Kyle Simmons
Burns, a transfer from Freedom High School, caught five passes for 117 yards and three touchdowns. His second score might have had the biggest impact, helping bury a Titans team that moments earlier was hanging with a Westfield team ranked No. 11 in the Washington Post's top 20.
With 20 seconds remaining in the first half and Westfield out of timeouts, Burns ran a "go" route down the field and beat single coverage before hauling in a 20-yard touchdown pass from Mullins, giving the Bulldogs a 28-7 advantage before halftime.
"They didn't have a safety over top so it was just one on one," Burns said. "I beat him down the field [and] the ball was thrown perfectly by Chris …"
Westfield head coach Kyle Simmons has been pleased with Burns' impact.
"Devon's a transfer to us and we were looking for somebody that could give us a deep threat, so it's like somebody wrapped a present and sent it to us," he said. "He's a great kid, he works real hard, he keeps his mouth shut, he's all about being coachable and working and he's fit in real nice."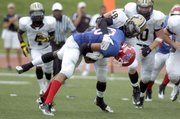 Richardson and Tyler Thrashe-Walker each rushed for more than 100 yards and scored a touchdown. Brian Garland scored a rushing touchdown and receiver Zach Scully picked up a teammate's fumble and raced into the end zone. Mullins completed 7 of 11 passes for 138 yards and three touchdowns.
Westfield amassed more than 500 yards of offense.
"We just buckled today," Randolph said.
Westfield scored on its first two possessions, including a fortunate break. Leading 7-0, running back Tre Smoot carried for 19 yards before fumbling. Scully picked up the loose ball and took it the remaining 45 yards to the end zone.
TC later drove to the Westfield 6-yard line, but came away empty when a 28-yard field goal attempt was blocked.
After the teams returned from the weather delay, TC recovered a fumble and three plays later, quarterback Alec Grosser lobbed a 21-yard touchdown pass to Landon Moss. Westfield would regain momentum on its following drive, however, and start to pull away.
Grosser completed 11 of 27 passes for 178 yards and three touchdowns. He was intercepted once. Moss caught three passes for 37 yards and two touchdowns, and Julius Cooper had two receptions for 77 yards, including a 73-yard touchdown.
Running back Dealo Robertson carried 22 times for 112 yards and a score.
"They didn't defeat us," Robertson said, "we defeated ourselves today."
Kevin Perry and Ed Kargbo each had 13 tackles for the Titans.
Westfield continued rolling after defeating South Lakes, 51-13, in its season opener on Aug. 30. TC defeated Wakefield, 73-0, in its Aug. 30 opener but received a reality check against Westfield. Moss said the Titans weren't shocked by facing one of the top teams in the region one week after beating a Wakefield team that hasn't had a winning season since 1983.
"We knew that it was going to be a completely different game and different environment," Moss said. "We just didn't show up …."
Westfield will travel to face Lake Braddock at 7:30 p.m. on Friday, Sept. 14. TC will travel to face Robinson.