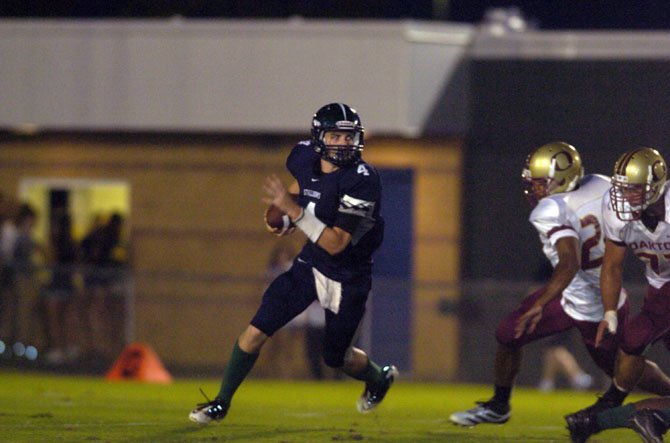 Lorton — South County quarterback David Symmes kept the ball on an option left, stopped, reversed field and scampered 23 yards for a touchdown on the game's opening drive.
Later, with the Stallions trailing in the third quarter, Symmes capped a 15-play, 74-yard drive by reaching across the goal line for a 2-yard touchdown.
Finally, with his team trailing late in the fourth quarter and facing second-and-14, Symmes completed a 30-yard pass to give South County a chance in the closing minutes.
Symmes used his athleticism to keep South County in the game against Oakton on Sept. 7, but after his pass on fourth-and-goal fell incomplete, the Stallions were left with another gut-wrenching loss.
The South County football team lost to Oakton, 28-21, on Friday at South County Secondary School. The Stallions had a first-and-goal on the Cougars 10-yard line and a chance to tie or take the lead with less than two minutes remaining, but a 2-yard run and three incomplete passes resulted in a turnover on downs and a 0-2 record.
One week earlier, South County lost its opener to Hayfield, 36-35. The Stallions scored a touchdown and went for two in the final moments, but came up empty.
Last season, South County started 0-3 before winning 11 straight and reaching the Division 5 state championship game, where the Stallions fell short against Phoebus. This year, while South County is once again winless in its first two games, head coach Gerry Pannoni said he notices a difference.
"Last year, we were [11-4] and we're a lot closer to being a good team at this point this year than we were at this point last year."

--- South County football coach Gerry Pannoni
"Last year, we were [11-4] and we're a lot closer to being a good team at this point this year than we were at this point last year," Pannoni said. "Last year, in this game we got beat 21-7 [by Oakton] and it wasn't close. This year, we left points on the board and we made some little mistakes. We correct the little stuff we're going to be OK --- we're going to be good."
One reason for optimism was the play of Symmes, who scored three rushing touchdowns against Oakton. He carried 15 times for 55 yards and completed 9 of 17 passes for 67 yards and was intercepted once. He was part of a South County ground game that totaled 245 yards.
"He's awesome, he's a stud, he's a horse, he's good," Pannoni said. "He's a very good quarterback. He can run it, he can throw it, he's going to be special. He's a good kid."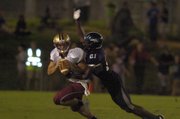 The Stallions controlled the ball --- and the clock --- in the third quarter, limiting Oakton to six offensive plays. The Cougars received the second half kickoff and punted after five plays. South County responded with a 15-play, 74-yard drive that Symmes capped with a 2-yard touchdown run. Each play during the drive was a run. The Stallions then attempted an onside kick and recovered at the Oakton 48-yard line. Seven plays later, Symmes scored on a 13-yard run, giving South County a 21-14 lead. Oakton lost a fumble on its next play, but the Stallions couldn't capitalize.
"[The Stallions] took control of the tempo in the third quarter," Oakton head coach Jason Rowley said. "I think we only snapped the ball on offense [six] times and they got the onside kick … But like I told the players, facing that adversity, that's what they're going to face week in and week out in the Concorde District. This is a great win for our program."
South County running back Warner Hunter finished with 24 carries for 88 yards. LeVaughn Davis rushed 19 times for 79 yards.
South County will host West Potomac at 7:30 p.m. on Friday, Sept. 14. The Stallions and the Wolverines shared the 2011 Patriot District title with Lake Braddock.
"These kids have never shut down and said, 'Damn, the game's over," Pannoni said. "At the end of the game, we had the ball inside the 10 with a shot to score and tie or score and win … They don't lay down. They might make some immature mistakes but they don't lay down. It's just those little mistakes we've got to correct and I think we're going to be good, I think we're going to be fine."