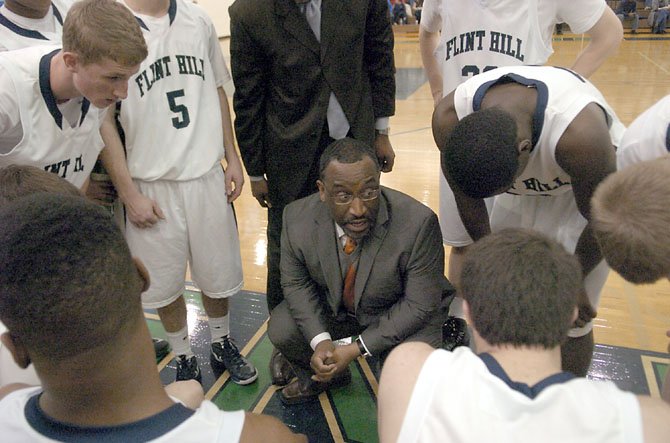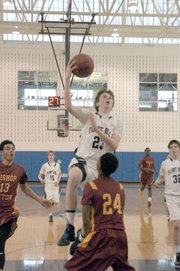 Vienna — The Flint Hill boys' basketball team trailed the Bishop Ireton Cardinals by 13 points at halftime on Jan. 5. With some clutch plays, a determined effort and a 9-1 run to close regulation, the Huskies forced overtime against their opponent from the mighty Washington Catholic Athletic Conference. Despite a valiant Flint Hill comeback, Bishop Ireton dominated the extra period, leaving the 3-8 Huskies with the consolation prize of a moral victory.
The Cardinals defeated the Huskies, 70-56, in overtime at Flint Hill School. Bishop Ireton outscored Flint Hill, 16-2, during the overtime period, limiting the Huskies to a pair of free throws. While Flint Hill ran out of gas late, the Huskies' performance is something on which head coach Rico Reed said the team can build.
"I feel that our kids battled and competed," he said. "I'm really proud of our effort. I think that right now, we're going through some growing pains. We've got some young guys who don't have a lot of varsity experience and it shows. I thought what we did defensively disrupted their scheme. … We kind of turned it into an ugly game, which I think for us is something that we're pretty comfortable with."
After trailing, 30-17, at halftime, Flint Hill outscored Bishop Ireton, 19-9, in the third quarter. The Huskies cut the Cardinal lead to one with an 11-2 run, capped by a three-point play by junior Britton Anderson. Flint Hill tied the score on multiple occasions in the fourth quarter, including a jumper by junior Matt Kennedy to force overtime.
Kennedy's 3-pointer with 6:36 remaining in the fourth quarter tied the score at 43-all, the game's first tie since the 3:21 mark of the opening quarter. He finished with five points.
"Right now, we're still trying to find an identity. We recognized the fact that Bishop Ireton is going to be a solid team this year; we're just trying to figure out how to make Flint Hill a solid team."

---Flint Hill boys' basketball coach Rico Reed
Reed said Flint Hill also got solid efforts from junior Cole Herdman (six points) and sophomore Damien Jones (10 points).
Anderson is the Huskies' leading scorer. He finished with a team-high 16 points against the Cardinals, 12 of which came in the second half and overtime.
"Britton Anderson is a very talented kid," Reed said. "We want to get the ball in his hands as often as possible, but I think that there are times when, as a team, we need to run our sets completely through and trust the system. Britton Anderson is a … a guy we need to have play well in order for us to be successful."
Sophomore Greg Harris scored six points for Flint Hill. Junior John Whitaker had five.
Flint Hill has victories against Trinity Christian, Woodberry Forest and Sewickley Academy. The Huskies lost to MAC opponent St. Andrew's, 60-58, on Tuesday, dropping their record to 3-9. Flint Hill will host Middleburg Academy at 6:15 p.m. on Thursday, Jan. 10.
"Right now, we're still trying to find an identity," Reed said. "We recognized the fact that Bishop Ireton is going to be a solid team this year; we're just trying to figure out how to make Flint Hill a solid team. … I love how hard we played [and] the fact that our guys refused to quit. We just want to continue to build on that. That has to be something we do every day, not just on game days."